Gran Turismo 6 - Cheat to unlock the Autobahn Lord trophy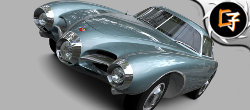 Here are a couple of tips and tricks for travel 12.718 km in Gran Turismo 6 without getting old with the pad in hand.
Autobahn Lord Trophy Guide
It cannot be said that it is the most difficult, but it is probably one of the most mangy and certainly the one that will take you the most time. I'm talking about the GT6 "Lord of the Autobahn" Trophy which asks to travel 12.718 km in the game.
Keep in mind that after completing the entire game (which is already long in its own right) you will have covered about 1500 km, which is equivalent to having just entered the first in the long journey required to unlock this abominable trophy. For all those who are not willing to not platinum a game, here are a couple of tricks they can help accomplish the feat with minimal effort.
A rubber band was enough
Start a race on the "Like the Wind: Special Stage Route X" circuit which consists of a couple of corners and two gigantic straights. If you want badly and you are not inclined to use particular tricks, take the fastest car you have and continue to turn as long as you can, sooner or later you will reach 12718 km.
If, on the other hand, you have the x2010 or x2011 and a rubber band, you can try letting your pad play by itself:
- start a test race on the special stage route x by running with the x2010 or x2011;
- take a rubber band (or even two if needed), and use it on the pad in order to keep the right stick forward and the left one slightly diagonally up-left;
- if you lock the pad in this way the machine should spin by itself. if you survive the first corner that's it, otherwise adjust the left stick a little. Just to be on the safe side, check that everything is fine for a couple of laps.
- now leave the console on so that the car turns by itself, grinding km. It should do about 2500 km every 5 hours.
The same trick can also be used with a steering wheel. Just lock the pedal and stop the steering at the right angle. I propose you a video showing the car running by itself. Good luck, if you are trying, you will need it !!!
The Gran Turismo 6 Trophy Guide is available with all the tips to unlock all other achievements and platinum the game.