Dead Island Riptide: Voice Recordings Guide [News Fanatic]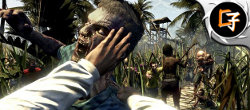 Undaunted, between a mutilated arm and a battered boss, we continue our search for collectibles in Dead Island Riptide: it is the turn of the voice recordings of the volunteers.

In this guide we see, with the help of a video, where all the voice recordings of volunteers which you will need to collect in Dead Island Riptide if you want to unlock these Achievements / Trophies
News fanatic - Find all the voice recordings of the volunteers.
The collector - Find 50% of the collectibles.
Captures - Find all collectibles.
In total there are 10 voice recordings of volunteers to find. By accessing the inventory with the "Select" button you can easily see which ones you have already taken and which ones you are missing. Each collectible is automatically saved as soon as it is collected, so you don't necessarily have to go to the next checkpoint to save your progress.
Remember that until you use the boat in Chapter 13, you will always have access to all areas of the game to recover any lost collectibles.
Here is a video showing the location of all Dead Island Riptide voice recordings
Any other guides for this game? Check out the Dead Island Riptide cheats and guides tab.