DMC Devil May Cry - How to defeat all bosses [Guide / Solution]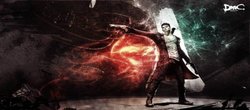 Is there any boss of DMC: Devil May Cry who is making you revisit the entire Roman calendar by blaspheming gleefully? Here is some help for you.
In the Devil May Cry series the bosses (those at the end of the level, big and tough, let's say "the old way") have always played a fundamental role in the gameplay of the game. The latest DMC is no exception, and some of the bosses we face (like Bob Barbas, The Hunter, Vergil) are really tough and hard to defeat.
The following video guide shows the battles with all the bosses of DMC. Watching the video you will learn which are the best strategies, weapons and skills to use to win the battle. Before leaving you to the video here is the complete list of bosses with the corresponding minute of the video where you will find the relative clash.
The Hunter (start of video)
Succubus (2:50 minute)
Bob Barbas (9:52 minute)
Mundus Spawn (17:59 minute)
Mundus (26:37 minute)
Vergil (36:37 minute)