Killzone Shadow Fall: guide to unlock all weapon accessories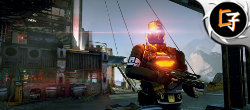 In Killzone Shadow Fall each class has a certain number of accessories to be able to attach to any weapon, which will be available to all players from the start. However, these must be unlocked by completing specific challenges.
Expert Weapons Guide
To unlock this trophy and also to have the arsenal at your disposal we will therefore have to complete the challenges related to accessories. Most of the challenges consist of killing a certain number of enemies under various conditions.
To the delight of the most passionate completists, the list follows with all the accessories that can be unlocked in each class, indicating the challenge to be completed to have each accessory (the explosives to be unlocked do not count towards the result, so you can also not get them ). Fuck the Helghast !!!

Scout

1 - StA101 Comrade
ACOG

Kill 25 players with the StA101 Kameraad using zoom
Get 5 headshots with the StA101 Kameraad using zoom

Scope X4

Kill 25 players with the Kameraad using the zoom with ACOG
Get 10 headshots with the Kameraad using zoom with ACOG

Taser

Kill 10 players with melee attack (melee)
Kill 10 players with the StA101 Kameraad

Silencer

Kill 25 players with the active disguise
Kill 25 players tagged by the Tactical Echo
Kill 25 players with the Kameraad

E-Stun Missle

Stun 25 players with the Stun Drone
Kill 50 players with the Kameraad

2 - StA61 Vultur

ACOG

Kill 25 players with Vultur using zoom
Get 5 headshots with Vultur using zoom

Scope X4

Kill 25 players with the Vultur using the ACOG zoom
Kill 10 players with headshot with the Vultur using zoom with the ACOG
Kill 1 player with the Vultur from cover, using the ACOG zoom

Scope X10

Kill 75 players with Vulter using zoom with Scope x4
Get 15 headshots with Vultur while zoomed in with Scope x4
Take 1 headshot with the Vultur down and with active zoom with Scope X4
Kill 5 players with Vultur from cover, using zoom with the Scope x4

Taser

Kill 10 players with melee attack (melee)
Kill 10 players with the StA61 Vultur

Silencer

Kill 25 players with the active disguise
Kill 25 players tagged by the Tactical Echo
Kill 25 players with the Vultur

E-Stun Missle

Stun 25 players with the Stun Drone
Kill 50 players with the Vultur

3 - LS70 Fors
x4/x10 Scope

Kill 25 players with the LS70 Furs using zoom
Take 10 headshots with the LS70 using the zoom

Taser

Kill 10 players with melee attack (melee)
Kill 10 players with the LS70

Silencer

Kill 25 players with the active disguise
Kill 25 players tagged by the Tactical Echo
Kill 25 players with the LS70

E-Stun Missle

Stun 25 players with the Stun Drone
Kill 50 players with the LS70

4 - LS36 Breacher - No accessories

5 - M6 Punt (secondary weapon)

Flashlight

Kill 10 players with M6 Punt

ACOG

Kill 25 players with M6 Punt using zoom
Get 5 headshots with M6 Punt using zoom

Laser Pointer

Kill 25 players with M6 Punt


Assaulto


1- LS21 Falcon

Holo

Kill 10 players with the LS21 Valk using zoom

ACOG

Kill 25 players with the LS21 Valk using zoom with Holo
Get 1 headshot with the LS21 using the zoom with Holo

Shotgun

Kill 50 players with the LS21 Valk
Kill 50 players with the LS36 Breacher
Stun 50 players with Assault's Stun Blast ability

Laser Pointer

Kill 15 players with the LS21 Valk in a single round
Stun 75 players with Assault's Stun Blast ability
Kill 25 players with the Buddy Drone

2 - StA25 Quick
Holo

Kill 10 players with the StA25 Vlug using zoom

ACOG

Kill 25 players with the StA25 Vlug using zoom with Holo
Get 1 headshot with the StA25 Vlug using zoom with Holo

Shotgun

Kill 50 players with StA25 Vlug
Kill 50 players with the LS36 Breacher
Stun 50 players with Assault's Stun Blast ability

Laser Pointer

Kill 15 players with the StA25 Vlug in a single round
Stun 75 players with Assault's Stun Blast ability
Kill 25 players with the Buddy Drone

3 - M55 Rumbler
Holo

Kill 10 players with the M55 Rumbler using zoom

ACOG

Kill 25 players with the M55 Rumbler using Holo zoom
Get 1 headshot with the M55 Rumbler using zoom with Holo

Shotgun

Kill 50 players with the M55 Rumbler
Kill 50 players with the LS36 Breacher
Stun 50 players with Assault's Stun Blast ability

HE Grenade

Kill 10 players with the M55 Rumbler by shooting from the shield
Kill 75 players with the M55 Rumbler
Kill 10 players with the Limpet grenade playing as Assault
Kill 10 players with the M194 grenade

4 - StA409 Keyzer
Holo

Kill 10 players with the StA409 Keyzer using zoom

ACOG

Kill 25 players with the StA409 Keyzer using Holo zoom
Get 1 headshot with the StA409 Keyzer using zoom with Holo

Shotgun

Kill 50 players with the StA409 Keyzer
Kill 50 players with the LS36 Breacher
Stun 50 players with Assault's Stun Blast ability

HE Grenade

Kill 10 players with the StA409 Keyzer by shooting from the shield
Kill 75 players with the StA409 Keyzer
Kill 10 players with the Limpet Grenade while playing as Assault
Kill 10 players with the M194 grenade

5 - LS36 Breacher
Holo

Kill 10 players with the LS36 Breacher using zoom

6 - LS12 Ripper (Sidearm)
Flashlight

Kill 10 players with the LS12 Ripper

Laser Pointer

Kill 25 players with the LS12 Ripper

Burst
Kill 50 players with the LS12 Ripper
Support
1 - VC30 Sickle
Holo

Kill 10 players with the VC30 Sickle

Incendiary Rounds

Kill 25 players with the VC30 Sickle

Flashlight

Kill 50 players with the VC30 Sickle
2 - StA59B Powder
Holo

Kill 10 players with the StA59B Pulver using zoom

ACOG

Kill 25 players with the StA59B Pulver using the Holo scope zoom
Get 1 headshot with the StA59B Pulver using the zoom with the Holo scope

Mobile Mine

Kill 25 players with the StA59B Pulver
Kill 25 players with the Air Support Drone
Kill 25 players with the turret

Missle

Kill 50 players with the StA59B Pulver
Distruggi 1 Air Support Drone
Destroy 1 Stun Drone
Destroy 1 Turret
3 - StA4 Stova
Holo

Kill 10 players with the StA4 StovaPulver using zoom

ACOG

Kill 25 players with the StA4 I was using the zoom with the Holo scope
Take 1 headshot with the StA4 I was using the zoom with the Holo scope

Mobile Mine

Kill 25 players with the StA4 Stova
Kill 25 players with the Air Support Drone
Kill 25 players with the turret

Missle

Kill 50 players with the StA4 Stova
Distruggi 1 Air Support Drone
Destroy 1 Stun Drone
Destroy 1 Turret
4 - StA4 Stova
- No accessories
5 - Vns12A Purge
- No accessories
6 - VC15 Judaz (secondary weapon)
Flashlist

Kill 75 players with the VC15 Judaz
Weapons available for all classes
1 - StA19 Reigner (secondary weapon)
Flashlight

Kill 10 players with the StA19 Reigner

Laser Pointer

Kill 25 players with the StA19 Reigner

Silencer

Kill 50 players with the StA19 Reigner