Final Fantasy XIII-2 - Fragment Guide [360-PS3]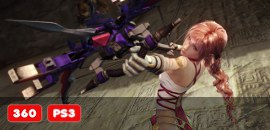 You are looking to unlock the "Ruling Order" and "Supreme Liberation" achievements / trophies that ask you to find the fragments in Final Fantasy XIII-2? If you answered yes to the question, you should know that from now on you are no longer alone in this difficult undertaking.
In this guide we will try to offer help in the search for these collectibles, let's stars folks !!!
The fragments to be found are 160 in total. At the bottom of the page you will find the link for the video guide that shows the position of the fragments, but I recommend that you first take a look at the tips that follow to avoid wandering around empty.
Remember that your Moogle will help you in the enterprise by shouting KUPOPOPO !!! and flying close to the fragments whenever you have someone nearby.
Explore the open areas well and don't forget to open crates and chests.

You will be rewarded with some fragments when you complete quests, defeat a boss or help other NPCs by completing side-quests. Dwell on other characters with the blue cloud on their heads and talk to them because they may give you missions that will lead you to find more fragments.

Complete the Labyrinth missions to get Shards as a reward. Oerba Village / Mt. Yaschas are the ideal location for these missions.

We can say that the average good explorer will come to collect about 120 of these fragments without great difficulty, for the remaining ones that are more difficult keep in mind that in all probability they are in the City of Academia because that is where the well hidden ones are.
Snippets from Daddy Bear and Quiz Machines
Nine shards can be obtained by playing mini-games in City of Academia AF4XX. Four of these fragments can be obtained from the Quiz Machines from Papa Bear, an NPC that requires the Moogle Hunt to be detected as he teleports himself randomly if you fail in his quiz.

Most of his questions are about Final Fantasy 13-2 and Final Fantasy 13, but you may also have some general questions about Final Fantasy.

If you are a fan of the series you should have no problem answering these questions, but don't worry if you don't, you have endless attempts at your disposal and questions tend to repeat themselves after a while.
Paradoxes
Look at all the possible paradox endings to get 8 fragments related to them. In this regard, you can follow our guide dedicated to the finales of Final Fantasy 13-2.
Casino Serendipity
Here you will find 5 more fragments. One of these is located outdoors near the Chocobo Racing Pavilion while the others can be purchased.
Finally, to get the last fragment, you need to hit a 777 on the slot machines. Here it is just a matter of luck, you could catch him in a few minutes if you are lucky or you will have to damn yourself for much longer before you hit the lucky combination.
Finished with the generic advice I propose one video guide showing the position of the fragments. It is clear that even with the guide it will not be a very simple task, but it is from the difficult results that the greatest satisfactions come, right ???
Video guide to Fragments in Final Fantasy 13-2