God of War Ascension - Gorgon Eyes Guide ["Eye for an Eye" Trophy]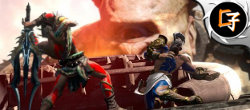 God of War Ascension Collectible Guide: Eyes of Gorgon.
In God of War Ascension there are 20 Gorgon eyes to find. Every 5 crops Kratos' health bar will increase, but in addition to maximizing life, collecting all eyes will also help you unlock the trophy.
Eye for an eye - Collect all the Eyes of Gorgon

The eyes are located in the white chests, as mentioned before to get the trophy and bring your health to the maximum you need 20 Gorgon Eyes, but remember that in the game there are more than 20 chests with eyes, so if you skip some do not worry . Once you have collected the 20 you need, the white crates will give you red Orbs.

Here is a video showing the location of 20 of them