God of War Ascension - How to unlock the Unstoppable Bad Boy Trophy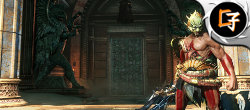 In this guide we see how to unlock the Trophy "Unstoppable Bad Boy" from God of War Ascension.

Perform a 1.000 hit combo

To perform the 1000 hit combo in God of War Ascension there are several ways, it is not very simple but not impossible either. Here are a couple of methods, but whatever your technique it will always be good to have the magic bar at maximum and the Lightning of Zeus at least at level 2.
Attention! Guide to unlocking all God of War Ascension Trophies is available

1 method
Go to Chapter 25: The Furnace and play until you are between two huge tanks on fire. Enemies will appear continuously.
Start the attack with the Fires of Ares, complete the combo and then switch to Lightning Bolt by activating the magic attack with L1 + R1 until the attack ends.
Once the magic is exhausted, return to the Fires of Ares and use the L1 + Square combo until you can return to Zeus' lightning again and unleash the magic once more.
Repeat this process as many times as possible to build your 1000 combo. Switch to difficulty a easy to make this method easier to do.

2 method
This method is much simpler as you will not have to deal with enemies but against a rock, however it requires a little more time. Right at the beginning of Chapter 19 you find the rock that Kratos has to push. Instead of pushing attack the rock with Zeus' lightning bolts and use the L1 + Square attack to build the combo up to 1.000 hits. As I said it is much slower as a procedure but it works 100%. Watch the video