Just Cause 3: Guide to Finding Vintage Pieces, Noir Mode [PS4 - Xbox One - PC]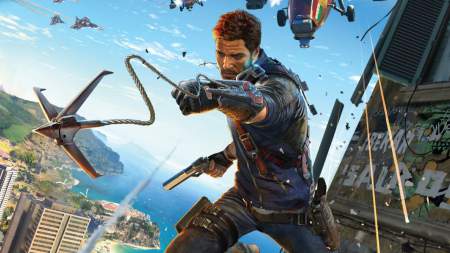 On the hunt for collectibles on the island of Medici.
Guide to find all Vingate pieces in Just Cause 3.
In Just Cause 3, there are 54 Vingate pieces of weapons and vehicles scattered throughout the game world. Finding all the pieces will serve you for several reasons: unlocking the "Old school is good" trophy, unlocking the Noir mode which applies a black and white filter to the game graphics and finally to obtain two particular unique weapons (for more details follow Just Cause 3 Unique Weapons Guide).
Below you will find the list with all the vintage parts present in the game with the exact coordinates where you can find them. Good hunting!
Dracon Island
1. Capite Est at N40 44.25, E5 35.43
2. Capite West at N40 44.14, E5 35.16
3. Capite West at N40 43.40, E5 34.32
4. Trio at N40 42.37, E5 34.83
5. Trio at N40 42.35, E5 35.31
6. Trio at N40 42.20, E5 35.61
7. Cauda at N40 41.10, E5 34.96
8. Cauda at N40 40.55, E5 34.53
9. Petra at N40 41.15, E5 35.15
10. Petra at N40 40.98, E5 36.53
11. Petra at N40 41.91, E5 37.07
12. Massos at N40 42.43, E5 37.50
13. Massos at N40 43.04, E5 36.82
14. Capite Est at N40 44.24, E5 36.83
Insula Source
1. Plagia at N40 42.85, E5 43.69
2. Feno at N40 42.56, E5 42.45
3. Feno at N40 42.27, E5 43.20
4. Plagia at N40 42.18, E5 43.98
5. Aspera at N40 41.75, E5 44.08
6. Lavanda at N40 41.84, E5 42.59
7. Lavanda at N40 42.10, E5 41.31
8. Lavanda at N40 41.96, E5 41.45
9. Lavanda at N40 41.25, E5 42.94
10. Lacos at N40 40.75, E5 42.17
11. Lacos at N40 40.64, E5 43.98
12. Sirocco Nord at N40 39.40, E5 42.15
13. Sirocco Nord at N40 39.24, E5 43.40
14. Sirocco Sud at N40 38.52, E5 42.65
15. Sirocco Sud at N40 38.04, E5 41.39
16. Soros at N40 37.35, E5 40.08
17. Soros at N40 37.03, E5 38.31
18. Soros at N40 37.12, E5 38.98
Striate Island
1. Maestrale at N40 48.55, E5 36.22
2. Maestrale at N40 48.50, E5 32.74
3. Libeccio at N40 46.37, E5 33.79
4. Libeccio at N40 46.65, E5 35.61
5. Libeccio at N40 45.18, E5 36.48
6. Prima at N40 44.03, E5 42.11
7. Costa Sud at N40 43.63, E5 44.98
8. Val de Mar at N40 45.48, E5 43.59
9. Costa Sud at N40 45.64, E5 45.89
10. Beach Torto at N40 46.94, E5 44.73
11. Val De Mar at N40 46.52, E5 42.25
12. Val De Mar at N40 47.32, E5 41.98
13. Grande Pastura at N40 48.62, E5 39.73
14. Grande Pastura at N40 49.17, E5 40.67
15. Grande Pastura at N40 50.72, E5 38.67
16. Grande Pastura at N40 50.80, E5 41.34
17. Grande Pastura at N40 51.40, E5 43.10
18. Grande Pastura at N40 50.34, E5 44.35
19. Beach Torto at N40 48.72, E5 46.69
20. Beach Torto at N40 47.97, E5 46.67
21. Montana at N40 48.27, E5 43.62
22. Montana at N40 48.32, E5 43.23