DMC Devil May Cry - Guide to Finding All Keys [Man, the show is over]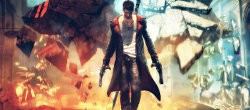 Guide to unlocking the "Friend, the show is over" Achievement / Trophy
Find all the Keys

Le Keys to find in DMC: Devil May Cry there are 21 in total (10 of Bronze, 6 of Silver, 4 of Gold and 1 of Ivory). These are found in almost all levels of the game, and once found they serve to open the relative door which in turn allows you to start secret secondary missons.
The list below includes: the story missions with their collectibles and a video showing the position of all Keys, in addition to that of Secret Doors and Lost Souls which we have however covered in separate guides that you can find in the tricks tab of DMC: Devil May Cry.

Remember that not all collectibles can be taken in the first game because some of them in order to be collected require some weapons / skills that are automatically unlocked only later. After finishing the game for the first time, you can replay the various missions individually by selecting them from the Select Chapter menu.
Mission 1 - Keys: 1, Secret Doors: 1, Lost Souls: 6 ---> Video
Mission 2 - Keys: 2, Secret Doors: 2, Lost Souls: 9 ---> Video
Mission 3 - Keys: 1, Secret Doors: 1, Lost Souls: 3 ---> Video
Mission 4 - Keys: 2, Secret Doors: 2, Lost Souls: 8 ---> Video
Mission 5 - Keys: 2, Secret Doors: 2, Lost Souls: 6 ---> Video
Mission 6 - Keys: 1, Secret Doors: 1, Lost Souls: 2 ---> Video
Mission 7 - Keys: 3, Secret Doors: 2, Lost Souls: 8 ---> Video
Mission 8 - Keys: 1, Secret Doors: 2, Lost Souls: 5 ---> Video
Mission 9 - Keys: 1, Secret Doors: 1, Lost Souls: 2 ---> Video
Mission 10 - Nothing
Mission 11 - Keys: 1, Secret Doors: 1, Lost Souls: 7 ---> Video
Mission 12 - Nothing
Mission 13 - Keys: 1, Secret Doors: 2, Lost Souls: 7 ---> Video
Mission 14 - Nothing
Mission 15 - Keys: 2, Secret Doors: 0, Lost Souls: 0 ---> Video
Mission 16 - Keys: 1, Secret Doors: 2, Lost Souls: 9 ---> Video
Mission 17 - Keys: 1, Secret Doors: 1, Lost Souls: 5 ---> Video
Mission 18 - Keys: 1, Secret Doors: 1, Lost Souls: 3 ---> Video
Mission 19 - Nothing
Mission 20 - Nothing