Guide to freeing all Oddworld New 'N' Tasty Mudokons [PS4-Xbox One-360-PS3-PC]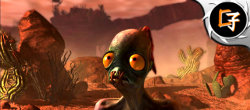 The poor slave Mudokons are just waiting for you to be saved, here is the complete guide to free them all.
How to find all the Mudokons
In Oddworld new n tasty there are 299 Mudokon to be released scattered throughout the game levels. Some will be easier to reach, while others will be well hidden in secret areas of the game.
Saving all the Mudokons will unlock the following Trophies / Achievements:
Disciple of Odd - Free a quarter of all Mudokons

Mudokonga - Free 9 Mudokons at the same time
Shepherd of Odd - Free half of all Mudokons
Prophet of Odd - Free each Mudokon as you finish New 'n' Tasty on easy mode
Salvatore di Odd - Free each Mudokon as you finish New 'n' Tasty in normal mode
Messiah of Odd - Free each Mudokon as you finish New 'n' Tasty on hard mode
New and impetuous - Clear any Mudokon with a best overall time of 3:00:00 or less

If you play hard mode directly you will unlock all 3 results related to the difficulty (Messiah of Odd, Savior of Odd and Prophet of Odd). In the background of the various levels you will see the constantly updated statistics, including Mudokon Freed and killed. To free them all you will obviously have to be careful not to kill any of them, so use the quicksave but do it very carefully, because each save will overwrite the previous one and you will not be able to make multiple saves.
Also remember that you can recover any unreleased Mudonkon by replaying the chapter they are in. After freeing them you will have to repeat the final chapter and free the Mudokons that are in this chapter (even if you had already freed them). Only in this way will the Mudokons that you have freed by replaying the previous chapters will be counted and you will unlock the results.
Below is a link to a video walkthrough showing where all the Mudokons of each Chapter are located, including those found in secret areas. In the solution the game comes completed in 2 hours and 44 minutes about, in order to also unlock the "New and Impetuous" trophy. Be careful! In this regard, remember that if you save and then reload from the previous checkpoint, the time it takes to replay the section will always be added to the total time. Follow the solution to find them all and good luck.
Mudokons Oddworld New 'N' Tasty Solution
For more information related to the trophies concerning the Mudokons, I recommend that you also follow the Oddworld New 'N' Tasty ending guide.