Battlefield 4: guida ai finali [PS4-Xbox One-PS3-360-PC]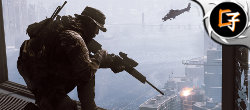 For the first time in the series, the Battlefield 4 story features alternate endings. Could it be because of the criticism of the always too trivial single campaigns to which Battlefield has accustomed us? We don't care, in the meantime let's see what these endings are and how to see them.
How to unlock all endings
ATTENTION!!! SPOILERS follow

I possible endings at the end of the Battlefield 4 story there are 3 in all. The choice that affects your ending is found at the end of the game, when you and your team are sent to destroy an enemy ship. At some point you will have a difficult choice to make: destroying the enemy ship will save the allied one (the Valkyrie), but you will be forced to sacrifice one of your teammates. You will choose which of the two between Irish and Hannah. By sacrificing Irish you get the first of the 3 endings, letting Hannah die you get the second.
For the third ending, just do nothing: in this way you will save the life of your companions, but the Valkyrie will be destroyed.
To see all three endings and unlock the following Achievements / Trophies
Per Tombstone
Let the Valkyrie be destroyed in the Campaign
For people
Sacrifice Irish to save the Valkyrie in the Campaign
For the cause
Sacrifice Hannah to save the Valkyrie in the Campaign
Patience is a virtue
Attend all three finals in the Campaign

you simply have to replay this mission 3 times, choosing a different option each time. The mission is quite short, especially if you play on the lower difficulty, so it won't be a problem.

GLITCH: It appears that pressing the button too quickly to detonate the ship destroying C4, the game may no longer respond to your commands, preventing you from sinking the ship. To avoid this problem just wait a couple of seconds before pressing the key to detonate the C4.
Any other guides for this game? Check out the Battlefield 4 cheats and guides tab.
Below is a video showing all the endings of the game.