Injustice Gods Among Us: how to unlock everything in the Archives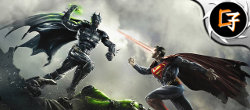 Unlock the Injustice Gods Among Us Trophy / Achievement "Collector".
As had already happened for Mortal Kombat, the developers of Injustice Gods Among Us have collected the many unlockables of the game in a "collector" which this time is represented by Archives (in Mortal Kombat, you will remember, there was the Kripta).
By unlocking all the objects in the archive, in addition to having many tasty extras for your new fighting game, you will also unlock the Objective / Trophy
Collector - Unlock everything in the archives
The objects contained in the Archives are 132 in total, in detail we have:
Extras (21 Access cards)
Character endings (unlocked by completing "Classic Battle" with each character)
Concept Art (37 Access Forms)
Music (26 Access tabs)
Costumes (24 Armory Keys)
In the Extras we find Icons and Backgrounds for your Character card and also meetings for the Battle mode, while the Music and Concept Art are taken from some arenas of the game.
The costumes are alternative Skins for all the characters, in this regard we also have a guide dedicated to the costumes to unlock which, among other things, also indicates in which position of the Archives each costume is located.
As it is easy to guess, the contents of the Archives are unlocked using the Access Cards and the Armory Keys that are obtained by progressing in the game, one every two levels. Doing some cunning calculations we find that 84 Access Cards and 24 Armory Keys are needed to unlock everything in the Archives.

And yes, if you wanted another long-lived fighting game, the lords of Netherrealm have satisfied you again this time. Below you can see a video showing all the contents of the unlocked Archives

Any other guides for this game? See the Injustice Gods Among Us cheats and guides tab.