Killer is Dead: how to find all Scarlett and unlock challenges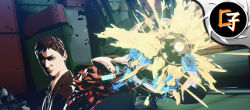 In this guide we see the location of all Scarlett present in Killer is dead.
In total there are 20 different positions where you can find the beautiful daughter, in chapters 3-4-6-7-9 and 10, 3 positions per chapter with the exception of chapters 9 and 10 which contain 4 different positions of Scarlett.
After finding Scarlett, remember to complete the Episode you are playing, otherwise your progress will not be saved (if you have difficulty moving forward, follow the Killer is dead video solution). Also, remember that you will need the Drill sub-weapon to reach certain locations Scarlett is in, so don't forget to get it from Natalia in the Gigolo mission.
Every time we find Scarlett we unlock a challenge, so only by finding all the scarlett can we unlock these Trophies / Achievements
Scarlett Hunt - 6 challenge missions unlocked.
A molester for Scarlett - 12 challenge missions unlocked.
Certified Harasser Scarlett - All Challenge Missions Unlocked.
In the following video we see where to find all 20 Scarlett in the various levels of the game. Good luck!
For other guides on this game, consult the Killer is Dead cheats and guides tab.