Lego The Lord of the Rings - Map Statue Guide [Nosy Hobbit]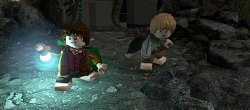 In I bind the Lord of the Rings there are 16 Map statues scattered throughout Middle-earth. Once found and activated with the appropriate button, the statues will allow you to travel quickly from one point to another in the game world, unlocking the Objective / Trophy:
Of all the nosy hobbits ...
Unlock all the Statues on the Middle-earth map. (Single player only)
The statues to find are these
-Hobbiton
-Bree
-Weathertop
-Rivendell
-The Pass of Caradhras
-Lothlorien
-Isengard
-Amon Hen
-Emyn Muil
-The Dead Marshes
-The Black Gate
-Helm's Deep
-Edoras
-Minas Tirith
-Minas Morgul
-Cirith Ungol
In particular, for Isengard and Helm's Deep, some users report having unlocked them only after finishing the Story mode. The following video shows the location on the map of each statue. Remember to visit the cheats tab of Lego the Lord of the Rings for other useful guides on this game.