Metal Gear Solid 5 the Phantom Pain Wandering Soldiers Missions Guide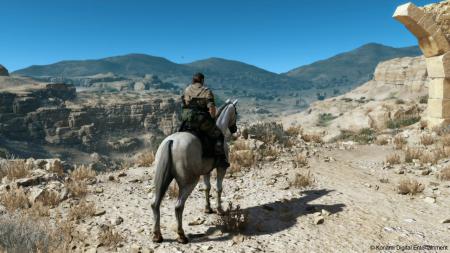 In this new guide dedicated to Metal Gear Solid 5 the Phantom Pain we see how to complete the particular optional missions of the game.
Le Stray soldier missions are 10 in total and by completing them we will get some decent cash rewards along with Paz's souvenir photos. Each time you get a photo you will need to take it to Mother Base to activate the next mission.
Finding all the optional soldiers will not be easy, and the whole thing will be made more complicated by the fact that you will have to capture them without killing them. Here are some important tips and pointers:
Paz cannot be visited until the first section of the Medical Platform is built. Only then will these optional missions be unlocked;
these missions must be completed in order, from 51 to 60;
every wandering soldier is very alert and will flee at the slightest noise. It is absolutely mandatory to immobilize soldiers with non-lethal weapons, the D-dog can help you identify them;
approach them during the night, everything will be much simpler;
use a sniper rifle with tranquilizers and aim for the head;
make extensive use of the cardboard box, it is an excellent way to approach without being discovered;
if you don't have the cardboard box, play the music "Love deterrence" on the iDroid to distract the soldier.
Now let's see in detail what are the optional missions of the stray soldiers, how they are unlocked and what are the related rewards.
Optional Mission 51
Dove: Southeast region of Afghanistan
How To Unlock: Complete Main Mission 06
Reward: 30,000 GMP
Optional Mission 52
Dove: Southwest region of Afghanistan
How to Unlock: Complete Main Mission 08 and Optional Mission 51
Reward: 60,000 GMP
Optional Mission 53
Dove: Northwest region of Africa
How to Unlock: Complete Main Mission 16 and Optional Mission 52
Reward: 80,000 GMP
Optional Mission 54
Dove: Southwest region of Africa
How to Unlock: Complete Main Mission 20 and Optional Mission 53
Reward: 90,000 GMP
Optional Mission 55
Dove: Northeast region of Africa
How to Unlock: Complete Main Mission 23 and Optional Mission 54
Reward: 100,000 GMP
Optional Mission 56
Dove: Southeast region of Africa
How to Unlock: Complete Main Mission 31 and Optional Mission 55
Reward: 120,000 GMP
Optional Mission 57
Dove: West region of Afghanistan
How to Unlock: Complete Main Mission 31 and Optional Mission 56
Reward: 140,000 GMP
Optional Mission 58
Dove: East region of Africa
How to Unlock: Complete Main Mission 35 and Optional Mission 57
Reward: 180,000 GMP
Optional Mission 59
Dove: East region of Afghanistan
How to Unlock: Complete Main Mission 38 and Optional Mission 58
Reward: 200,000 GMP
Optional Mission 60
Dove: Northwest region of Afghanistan
How to Unlock: Complete Main Mission 38 and Optional Mission 59
Reward: 300,000 GMP