Titanfall 2: guide to ALL collectible Helmets [PS4 - Xbox One - PC]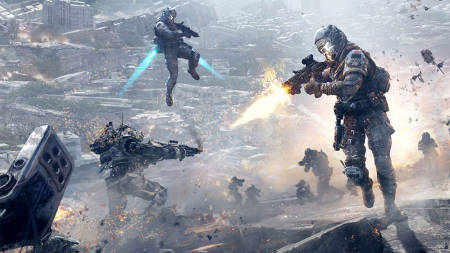 In this guide we see how to find all collectibles in Titanfall 2.
Don't forget to also consult the Titanfall 2 cheats and complete guide card for other useful guides on this game.
In Titanfall 2 the pilots' helmets represent the collectible items to be collected during the game's single-player campaign.
There are 46 helmets in total and collecting them all will unlock the trophy / achievement "Behind all corners" - Find all collectibles. Here's a nice one video showing where all the Titanfall 2 collectible helmets are located and will help you collect them all by showing you their exact location:
Remember that from the select chapter menu you can see which ones you have already taken and which ones you are missing, so if you have finished the game you can always replay missions and retrieve only the ones you haven't caught yet. Helmets must be collected with the foot pilot (cannot be done with the Titans), after collecting a collectible the progress is saved immediately so there is no need to get to the next checkpoint.
Here is the timeline of the movie that indicates the complete list of helmets with the corresponding minute of the video where you can see how to find them one by one:
#1 - The Pilot's Gauntlet - 0:05
# 2 - BT-7274 - 0:37
# 3 - BT-7274 - 0:53
#4 - Blood and Rust - 1:23
#5 - Blood and Rust - 2:06
#6 - Blood and Rust - 2:42
#7 - Blood and Rust - 3:07
#8 - Blood and Rust - 3:32
#9 - Blood and Rust - 4:04
#10 - Into the Abyss - 4:44
#11 - Into the Abyss - 5:20
#12 - Into the Abyss - 5:52
#13 - Into the Abyss - 6:33
#14 - Into the Abyss - 7:03
#15 - Into the Abyss - 7:28
#16 - Into the Abyss - 8:21
#17 - Into the Abyss - 8:49
#18 - Into the Abyss - 9:10
#19 - Effect and Cause - 9:36
#20 - Effect and Cause - 9:56
#21 - Effect and Cause - 10:21
#22 - Effect and Cause - 10:58
#23 - Effect and Cause - 11:35
#24 - Effect and Cause - 11:58
#25 - Effect and Cause - 12:15
#26 - Effect and Cause - 12:41
#27 - The Beacon - 12:56
#28 - The Beacon - 13:12
#29 - The Beacon - 13:54
#30 - The Beacon - 14:31
#31 - The Beacon - 14:52
#32 - The Beacon - 15:26
#33 - The Beacon - 16:01
#34 - The Beacon - 17:19
#35 - The Beacon - 17:58
#36 - The Beacon - 18:38
#37 - The Beacon - 19:14
#38 - Trial by Fire - 19:53
#39 - Trial by Fire - 20:17
#40 - Trial by Fire - 20:50
#41 - The Ark - 21:29
#42 - The Ark - 21:47
#43 - The Ark - 22:04
#44 - The Fold Weapon - 22:49
#45 - The Fold Weapon - 23:20
#46 - The Fold Weapon - 24:09