Middle-earth Shadow of Mordor Collectibles Ithildin Guide [PS4-Xbox One-360-PS3-PC]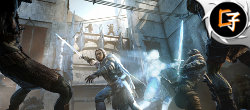 We go hunting for collectibles in the lands of Mordor, we go to find all the Ithildin.
Trophy Guide / "Lamp Bearer" achievement
To unlock this trophy in Shadow of Mordor is required find a total of 32 Ithildin. These are symbols stamped on the walls scattered around the game world and you just need to activate the forge tower of the area you are in to be able to see directly on the map the position of all the Ithildin present in the same area (follow the guide to activate the towers for more aid).
Once you have identified the position, approach and press L1 on Playstation / LB on Xbox to make the symbol appear, then press the R1 button on Playstation / RB on Xbox to collect it.
See the cheats and guides tab of Middle-earth Shadow of Mordor for other useful guides on this game.
There are no particular rewards for those who collect all the Ithildin (apart from the Mirian that you will get for each collectible found), the only recognition is the message "The lord of Light" which, for the lazy who will never collect all the symbols , we report in the following video.
ATTENTION, SPOILERS !!!