Guide / Walkthrough Missions Fracture Assassin's Creed Unity [PS4 - Xbox One - PC]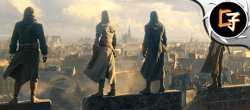 Let's see how to complete all Assassin's Creed Unity fracture missions.
Trophy Guide / "No Man's Land" Objective
In Assassin's Creed Unity there are 7 fracture side missions that must be completed to unlock this achievement. These missions are also marked on the map and unlock as you progress through the single player campaign.
To complete them you have to collect enough data clusters to reach the required score indicated on the screen. Remember that, in the missions where they are present, the kills of the enemies are worth additional points.
When you have reached the required score, a trapped assassin will appear on the map, you will have to reach him and free him. At this point you can exit, or continue to complete the secondary objective as well, if you succeed within the time limit you will also get the bonus data.
Below is the list of Fracture side missions with links to videos showing how to complete them. Remember to consult the Assassin's Creed Unity cheats and guides tab for other useful guides on this game.
Belle Epoque - Data Harvest
Belle Epoque - Tornado
Occupied Paris - Covert
Occupied Paris - Data Harvest
Occupied Paris - Tower
Medieval - Battlefield
Medieval - Quarry