Alien Isolation Collectible Badge Guide [PS4-Xbox One-360-PS3-PC]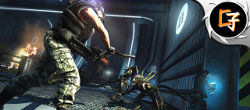 After seeing how to find all the messages of the Nostromo, let's continue the search for the collectibles of Alin Isolation and let's also collect all badges.
Trophy Guide / "Presi" Objective
The ID cards (badges) to be collected to unlock this achievement are 50 in total and are scattered throughout the game's missions. Each tag is related to a person and therefore has a specific name and you can check at any time from the map which ones you have already collected and which ones you are missing.
Remember that the badges collected are automatically saved and that you can retrieve any cards not taken by replaying a mission with the "Select chapter" function.
Here is a video showing it where exactly all the badges are located, followed by the timeline indicating the minute of the movie in which each ID card is shown. Don't forget to consult the Alien Isolation cheats and guides tab for other useful guides on this game.
#1 - Mission 2 (Z.Watson) - 0:05
#2 - Mission 2 (A.Fielding) - 1:01
#3 - Mission 3 (A.Hutchison) - 1:55
#4 - Mission 3 (C.Ward) - 2:21
#5 - Mission 3 (J.Williams) - 3:05
#6 - Mission 4 (T.Curwen) - 4:14
# 7 - Mission 4 (D. Turner) - 5:30 am
#8 - Mission 4 (P.Brophy) - 6:14
# 9 - Mission 4 (T.Armer) - 6:55
#10 - Mission 5 (B.Ransome) - 7:26
#11 - Mission 5 (F.Whitechapel) - 7:58
# 12 - Mission 5 (C. Burows) - 9:16 am
#13 - Mission 5 (T.Miller) - 9:51
# 14 - Mission 5 (L.Tart) - 11:09
#15 - Mission 5 (A.Lynch) - 11:52
#16 - Mission 6 (C.McCormack) - 12:19
#17 - Mission 6 (A.Sawers) - 13:06
#18 - Mission 6 (K.Neville) - 13:41
# 19 - Mission 7 (O. Sans-Gomez) - 14:19
#20 - Mission 7 (N.Brunswick) - 14:46
#21 - Mission 8 (E.Koorlander) - 15:12
#22 - Mission 8 (K.Clarke) - 15:37
# 23 - Mission 8 (V.Nash) - 16:26
#24 - Mission 10 (W.Woodbury) - 17:34
#25 - Mission 10 (K.Lingard) - 18:12
#26 - Mission 10 (R.Tafler) - 18:54
#27 - Mission 10 (C.Gascoyne) - 20:11
#28 - Mission 10 (K.Lenton) - 21:11
#29 - Mission 10 (P.Ryniak) - 21:49
#30 - Mission 11 (B.Hymers) - 22:29
#31 - Mission 11 (G.Ramsey) - 23:35
#32 - Mission 12 (B.Bullock) - 24:13
#33 - Mission 12 (J.Mitchell) - 24:46
#34 - Mission 12 (E.Hampton) - 25:20
#35 - Mission 12 (E.Guevara) - 26:12
#36 - Mission 13 (J.Shotliff) - 26:35
#37 - Mission 13 (K.Hussein) - 27:03
#38 - Mission 13 (G.Spedding) - 27:36
#39 - Mission 13 (J.King) - 28:00
#40 - Mission 14 (Chief Porter) - 28:22
#41 - Mission 14 (P.Timlett) - 28:53
#42 - Mission 15 (J.Jones) - 29:22
#43 - Mission 16 (M.Radcliffe) - 29:55
#44 - Mission 16 (M.Perry) - 31:07
#45 - Mission 16 (K.Bennett) - 32:21
#46 - Mission 16 (O.Smith) - 34:29
#47 - Mission 17 (E.Winters) - 35:19
#48 - Mission 17 (F.Sinclair) - 35:53
#49 - Mission 18 (R.Padjdlhauser) - 36:19
#50 - Mission 18 (S.Cooper) - 36:47