Uncharted 4: Speedrun Guide, Complete the Game in 6 Hours [PS4]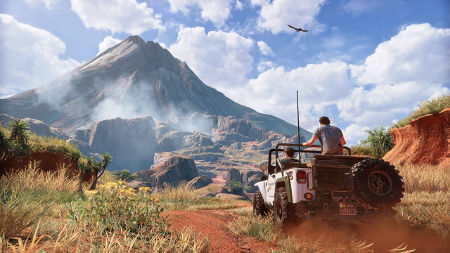 In this guide we see how how to complete Uncharted 4 in 6 hours or less to unlock the "Completed Speedrun" silver trophy.
Don't forget to also check out the complete guide of Uncharted 4 a Thief's End for other useful guides on this game.
If you too are looking to unlock the Uncharted 4 Speedrun trophy, here are some tips that will come in handy in this difficult, but far from impossible, undertaking.
Use the tricks. As mentioned several times the tricks do not block the trophies. For the speedrun, the infinite ammo trick, the weapon selection (use the Barok. 44, kill with one shot) together with the automatic aim will surely be useful. For all the details on how to use the tricks follow the complete guide to the Uncharted 4 tricks.
Skippate and filmed. The timer also goes on during cutscenes, so always skip them (it stops when you pause or uploads instead).
Explorer. Play on the lowest difficulty, it will make it easier.
Never stop. Remember that you can also shoot while running.
Avoid confrontations. It is not necessary to kill every single enemy, it is sometimes possible (and therefore recommended) to jump over entire groups of enemies without killing anyone.
Running, but calmly. You don't have to do everything in one session, you can create a save and resume at a later time.
Don't die. Keep in mind that the timer does NOT reset when you die or restart from a checkpoint, but it continues to run, so try to die as little as possible.
Get ready for the puzzles. Puzzles can cost you a lot of time if you're not sure how to solve them. In this regard, keep at hand our guide / solution to ALL the puzzles of Uncharted 4 [PS4]
Check the time. You can check where you are with the elapsed time at any time in the statistics.
Alternative method, much simpler ...
If you don't want to play the speedrun, but still want to unlock the trophy, then follow this guide: Uncharted 4: An Exploit to Finish the Game in 10 Minutes [PS4] which explains how to easily get this trophy in minutes. The "trick" also works with the latest patch 1.03.