Far Cry 3 - Trophy List + Secret Trophies [PS3]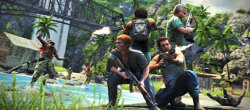 Here is the list of Trophies for Playstation 3 of Far Cry 3
| | | | |
| --- | --- | --- | --- |
| Bronze | Silver | Gold | Platinum |
Free fall
Survive a fall of more than 100m (single player only).
Tattooed
Get 5 skill tattoos.
Money to burn
Spend $ 5000 at the store.
Compulsive shopping
Buy all the accessories and colors of a weapon.
Towards freedom
Free 3 outposts.
A shadow in the night
Liberate an outpost without raising the alarm.
Cooked and eaten
Complete a quest for the Hunter's Way.
Let's take a walk
Complete a Supply Quest.
In cold blood
Complete a WANTED: Dead quest.
Let the rehearsal begin
Beat the score on a rakyat trial.
Predator or prey?
Lure and kill a predator.
Poacher
Hunt and skin a rare animal.
DIY lessons
Craft 5 equipment upgrades.
Pharmacist
Prepare 25 syringes.
Good stuff
Prepare a special syringe.
Greetings to the Internet
Find the Hollywood star.
Who plays with fire ...
Kill 50 enemies with the flamethrower (single player only).
High potential
Kill 4 enemies at the same time with one explosion (single player only).
Rock beats scissor
Distract 25 enemies using stones (single player only).
Surprise!
Kill with a drop from the sky from a hang glider, cable or parachute (single player only)
Improper use
Kill an enemy with the soldering iron (single player only).
Experienced archer
Kill a target with a bow from over 70m (single player only).
Paparazzo
Mark 25 enemies using your camera (single player only).
Brave or stupid
Dive from over 60m in height (single player only).
We arrive
Complete the co-op map Ready or not (connected online / offline).
Returned to sender
Complete the Sorting co-op map (connected online / offline).
Sea force 9
Complete the Outboard co-op map (connected online / offline).
Hide and seek
Complete the E Dark Fu co-op map (connected online / offline).
Night race
Complete Rush Hour co-op map (connected online / offline).
Now we're equal
Complete the Vendetta co-op map (connected online / offline).
The liberator
Free all outposts.
It goes on the air
Activate 9 radio towers.
Archeology for Beginners
Find 60 relics.
Letters from the afterlife
Find all the lost letters.
Memory problems?
Find all memory cards.
The jungle book
Unlock 50 items in the survival guide.
Bully
Vinci 1500 $ a poker.
Do you like tattoos?
Get every tattoo by learning all the skills.
King of the jungle
Collect all trophies.
Far Cry 3 Secret Trophies

First blood
Escape the pirates and survive the jungle.
The magic mushroom
Bring the mushrooms from the cave to the doctor.
Blind date ... Or almost!
Save Lise from the burning building.
One of us
Pass the initiation of the rakyat.
Don't touch my stoner
Save Oliver from the pirates.
Wall Street, baby!
Save Keith from Buck.
Higher and higher!
Use the wingsuit to reach the island to the south.
Incognito
Complete Riley's interrogation.
Did I ever tell you ...?
Survive the encounter with Vaas and escape.
Never take anything for granted
Kill Vaas.
Poker night
Kill Hoyt.
What a trip
Attend the final ceremony.