The Order 1886 Newspaper Guide, Press Review [PS4]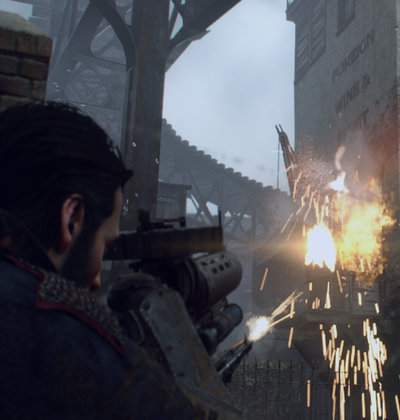 Let's continue with the hunt for The Order 1886 collectibles, let's see where to find all the Newspapers.
Trophy Guide "Press Review", inspects all the newspapers
In The Order 1886, there are 77 collectibles to collect scattered throughout the game's 16 levels. These are: phonograph cylinders, newspapers, photographs, documents and objects that can be inspected. In this and in the other guides dedicated to collectibles we do NOT deal with the objects that are collected automatically because they are part of the story, in order to avoid unnecessary spoilers.
I newspapers are 10 in total and you'll have to find them all to unlock two Trophies: "Press Review" e "First Class Inspector".
In the following videos you can see where ALL these collectibles are found. If you are trying to collect them all, be careful: while for the Phonograph Cylinders you can check from the Archive in the menu which ones you have already taken, all the others NO are tracked in any way, so you must be the one to proceed in an orderly manner in the collection, otherwise if in the end even one is missing, it will be impossible to establish WHICH you are missing.
I therefore recommend that you use the list below to mark the ones you collect as you find them. The list also indicates the minute of the video where you can see the position of each object.
In this other video, however, ONLY newspapers are shown.
Chapter 1
# 1 - Newspaper # 1 - 0:05
#2 - Photograph #1 - 0:54
# 3 - Cylinder phonograph # 1: Le Morte D'Arthur - 1:18
# 4 - Document # 1 - 1:35
# 5 - Item # 1 - 2:03
WATCH THE VIDEO
Chapter 2
# 1 - Document # 2 - 0:05
# 2 - Item # 2 - 0:35
# 3 - Document # 3 - 0:56
WATCH THE VIDEO
Chapter 3
# 1 - Newspaper # 2 - 0:05
# 2 - Item # 3 - 0:33
# 3 - Document # 4 - 1:02
#4 - Item #1 - 1:37
# 5 - Newspaper # 3 - 2:39
#6 - Photograph #2 - 2:58
# 7 - Item # 4 - 3:31
# 8 - Document # 5 - 3:45
#9 - Cilindro fonografo #2: Sons and Daughters of Britain - 4:06
# 10 - Cylinder Phonograph # 3: The Anarchists 12.10.86 - 4:27
# 11 - Document # 6 - 5:18
# 12 - Item # 5 - 5:55
# 13 - Document # 7 - 6:24
# 14 - Newspaper # 4 - 6:47
WATCH THE VIDEO
Chapter 4
#1 - Item #2 - 0:05
# 2 - Document # 8 - 0:30
#3 - Item #3 - 0:55
#4 - Item #4 - 1:25
#5 - Photograph #3 - 1:42
#6 - Item #5 - 2:15
# 7 - Document # 9 - 2:30
#8 - Item #6 - 2:45
#9 - Item #7 - 3:03
#10 - Item #8 - 3:29
# 11 - Cylinder Phonograph # 4: The Anarchists 29.09.86 - 4:10
#12 - Cilindro fonografo #5: All Through the Night - 4:32
#13 - Item #9 - 4:40
WATCH THE VIDEO
Chapter 5
# 1 - Item # 6 - 0:05
# 2 - Cylinder phonograph # 6: Agamemnon Christening - 0:35
# 3 - Newspaper # 5 - 1:02
# 4 - Cylinder phonograph # 7: Evacuation Procedures - 1:26
# 5 - Document # 10 - 1:53
#6 - Item #10 - 2:39
#7 - Photograph #4 - 3:23
WATCH THE VIDEO
Chapter 9
# 1 - Document # 11 - 0:05
# 2 - Cylinder Phonograph # 8: The Anarchists 16.10.86 - 0:29
# 3 - Item # 7 - 1:08
#4 - Photograph #5 - 1:37
#5 - Cilindro fonografo #9: Cable from the new Continent - 1:59
# 6 - Newspaper # 6 - 2:17
#7 - Photograph #6 - 2:39
# 8 - Item # 8 - 3:05
# 9 - Cylinder phonograph # 10: Cargo Inspection Log - 3:23
# 10 - Document # 12 - 4:20
#11 - Photograph #7 - 4:53
# 12 - Document # 13 - 5:15
# 13 - Item # 9 - 5:40
WATCH THE VIDEO
Chapter 11
# 1 - Newspaper # 7 - 0:05
#2 - Photograph #8 - 0:25
# 3 - Cylinder Phonograph # 11: The Anarchists 17.10.86 - 0:43
# 4 - Newspaper # 8 - 1:25
#5 - Photograph #9 - 1:51
# 6 - Item # 10 - 2:38
#7 - Cilindro fonografo #12: News from the East Indies - 3:11
# 8 - Document # 14 - 3:30
# 9 - Cylinder phonograph # 13: Ramayana, First Verse - 4:08
# 10 - Newspaper # 9 - 4:28
# 11 - Document # 15 - 4:51
#12 - Item #11 - 5:10
# 13 - Cylinder phonograph # 14: The Captain's Testament - 5:34
#14 - Item #12 - 5:56
#15 - Photograph #10 - 6:12
#16 - Item #13 - 6:26
# 17 - Phonograph cylinder # 15: Chopin, Prelude in E-Minor, 'Dying Away' - 6:51 am
#18 - Item #14 - 7:11
WATCH THE VIDEO
Chapter 15
# 1 - Newspaper # 10 - 0:05
# 2 - Document # 16 - 0:33
# 3 - Cylinder Phonograph # 16: The Anarchists 29.11.86 - 1:01
#4 - Photograph #11 - 1:31
WATCH THE VIDEO