Assassin's Creed 4 Black Flag: how to hunt orca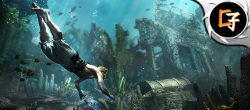 Let's go hunting for killer whales in Assassin's Creed IV Black Flag to unlock the "Friend of Nature" Trophy and Achievement and add another big game to our collection.
Guide to harpooning an orca
Orca hunting in AC 4 can be considered a small mini game. Here's how to proceed to win.
First of all you will have to find on the map the locations where it is possible to hunt the big whale. There are several, one is at coordinate 537,340 while another can be found at coordinate 120,496 (the one shown in the video below).
Navigate to that position where you will be warned of the presence of prey to hunt, then you will have the opportunity to launch into the sea in pursuit of them. Aim and center the orca with the harpoon. Keep hitting her with more harpoons, her health bar at the top left must drop to zero.
Be careful because at regular intervals the orca will sink and then return to the surface and load your boat. Hit it with other harpoons before it reaches you, otherwise you will take damage. When life drops to zero the prey will be yours, along with the "Friend of Nature" result.
Here is a video showing how to do it, for other guides on this game do not forget to consult the card Assassin's Creed 4 Black Flag cheats and guides.