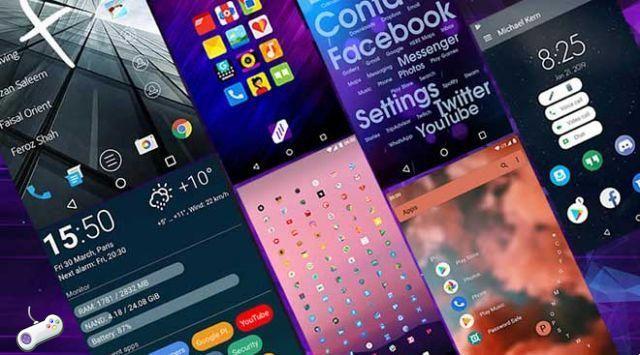 Here is our selection of best android launchers for the year 2020. These are applications available on the Play Store that allow you to significantly change the interface and ergonomics without any complex manipulation, there are many and we have selected a few, the most popular ones on the app store by Google.
3 Action Launcher
Android One Launcher
Apus
blackberry launcher
CMLauncher
Evie Launcher
Go Launcher EX
Google Now Launcher
iOS 13 launcher
Microsoft Launcher
Nova Launcher
POCO Launcher
Just Launcher
Square Home 2
TSF Launcher 3D Shell
Most launchers offer to change the theme, icons and very often to apply new scroll effects, to create shortcuts via custom touch gestures. For example, a double tap accesses the smartphone settings while a triple tap launches an application. A swipe of the finger in one direction opens a selected page and a "pinch" provides access to a folder. Depending on the model installed it will be possible to optimize the graphic rendering or vice versa simplify it so that performance takes priority.
The main selling point of an Android launcher is that it allows for a complete redesign of the system in so that it shows an appearance and ergonomics closer to the user. Be prepared to spend a lot of time customizing everything because luckily, there is something for everyone, both beginners and connoisseurs.
Here is a small summary of the best android launchers. Obviously there are dozens of them, but in this article we will only talk about the ones that seemed most interesting to us, depending on the use you want to make of them.
Read also: What is a launcher and how to change the one on my android?
3 Action Launcher
At the top of the best launchers there is therefore 3 Action Launcher and this, for good reasons. Source of customization for any smartphone, the addition of an application launcher like this one that incorporates Quickpages, covers, ...
There are many other functions available that will improve the interface of your Android terminal. Action Launcher 3 allows several things.
Use through the application menu
Scroll through the apps to make them appear as widgets
Smooth, infinite scrolling
Turn your icons into folders
Quick search function
Renaming your files is easy
Change the font
Hide the status bar
Android One Launcher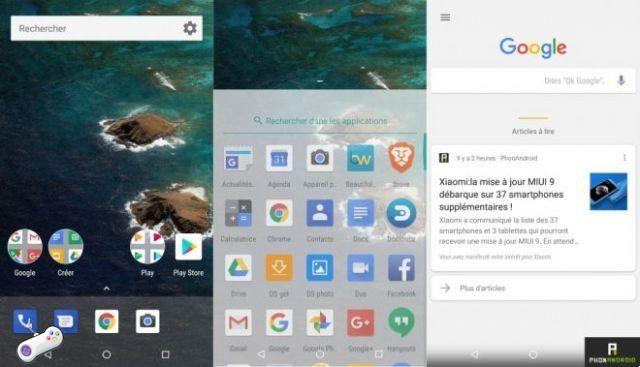 The latter is not yet available on the Play Store at the time of writing. You have to go directly to this site to download it. Once you've downloaded the APK, simply install it. Android One Launcher offers a pure Android interface that is particularly light and straight to the point. A developer has extracted the Launcher from an Android One smartphone, the Xiaomi Mi A1.
There are some differences with the Launcher available on Google Pixel smartphones, such as the application menu which has a white background. We point out that the APK installation works perfectly even on non-rooted terminals. We hope that Google will make this launcher available directly in the Play Store. It is worth noting that the search giant still delivers Google Now Launcher.
Apus
Aesthetically very successful, Apus it is also particularly customizable. Lots of wallpapers, themes, icon packs, animations and tools to always have a cutting-edge interface. Apus automatically classifies your applications into folders, intuitive gestures give you access to shortcuts.
The Free Swipe feature gives you direct access to your phone and system settings. Apus also includes a performance accelerator, a battery optimizer. One drawback, the ads are a little too invasive for some people.
blackberry launcher
BlackBerry offers a launcher on the Play Store for smartphone users who do not have a device of the brand, but still want to have an interface close to what the manufacturer offers on their terminals. 30-day trial is offered for free, advertisements will be added. You can get rid of it by making a small payment. Here are the key points of this interface:
BlackBerry pop-up widgets allow you to view any application widget by simply swiping up or down on the icon on the home screen, to quickly access the information you need, when you need it
Create custom shortcuts for Speed ​​Dial, Google Maps, Drive Scan and more
Personalize the look of your device with icon packs, wallpapers and ringtones
Change the layout of the tile grid on the home screen
Hide individual apps from the Home screen and All apps screen
CMLauncher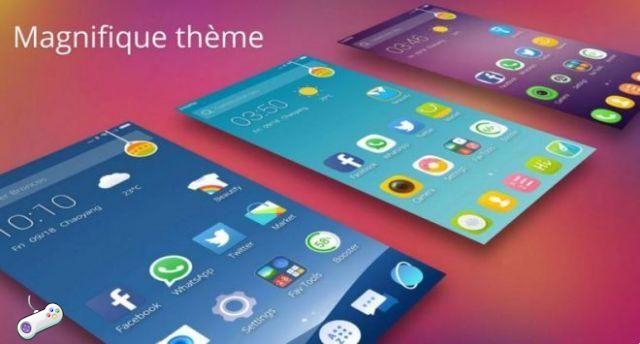 CMLauncher is developed by the same team as the excellent CM Security and the essential Clean Master. Lightweight, it only weighs 3MB (that's a plus!) And it's extremely fast. As for the proposed features, these are quite interesting. It is customizable and above all safe. It can block viruses and malware and protect your data and application data.
It also makes your Android smartphone more ergonomic by placing your apps in folders according to your habits. The type of launcher that we would like to see by default on the builders' overlay, both for its fluidity and for its features that are still numerous and are not necessarily found on all launchers.
Evie Launcher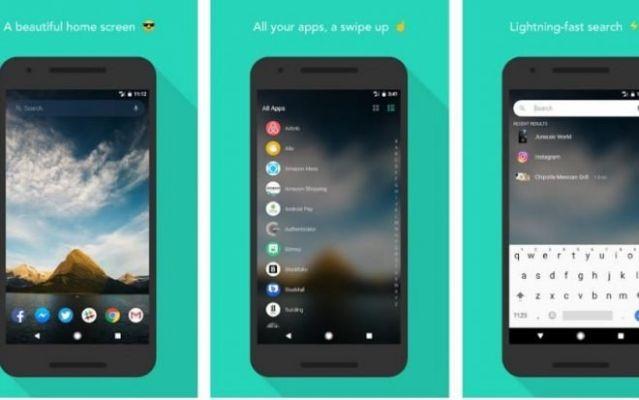 This launcher sports a minimalist design, just swipe up to view the applications, Evie also benefits from a fast search engine and offers a high level of customization through downloadable icon packs.
Go Launcher EX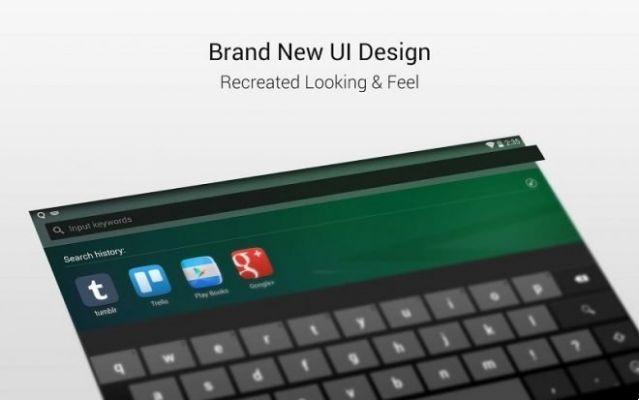 Go Launcher EX is the most popular and downloaded Android launcher. And for good reason, it's the most comprehensive of all and one of the most obvious to pick up. It offers many themes, transition animations, lock screens… There is something for everyone and there is very little chance that you cannot find what you are looking for.
Go Launcher Ex it goes particularly well with all versions of the operating system. Offers beautiful 3D effects. One major drawback is advertising.
Up to 15 icons in the dock with management of their appearance
Ergonomic and intuitive use through tactile gestures
Ability to select the page to put as home
Management of notification badges
Attribution of actions to tactile gestures
Complete customization of the notification bar
Advanced application organization management (no alphabetical order)
Create folders
Boutique well stocked in themes, widgets, wallpapers ...
Very complete customization
Google Now Launcher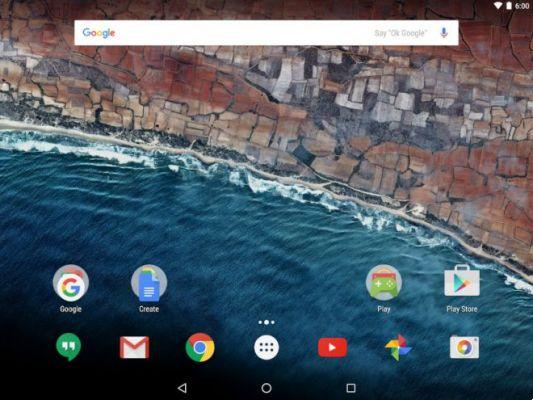 Google Now Launcher was released in late 2013 after being a hit on the Nexus 5. With this Android launcher by definition, you get a minimalist and effective experience. Furthermore, as its name indicates, the launcher integrates the Google Now experience by allowing you in particular to access activation via the command "OK, Google" or on the various tabs with a simple touch of your finger. Bring an Android experience close to that of the Nexus.
Activation with the phrase "OK Google"
Voice command to send text messages, request directions or listen to a song
Faster access to the Google engine Logical integration of other Google products such as Gmail, YouTube and Maps
Easily access your favorite Google products and services like Gmail, YouTube and Maps.
IOS 13 Launcher
Are you on Android but still like the look of the iPhone interface? We have what you need - this launcher emulates the look and feel of iOS 13 icons and gestures included. 3D Touch is present both on the real iPhone and on the way Apple smartphones present and store applications. This iOS Launcher supports add-ons, for example to simulate Control Center, Assistive Touch or the original wallpapers.
Microsoft Launcher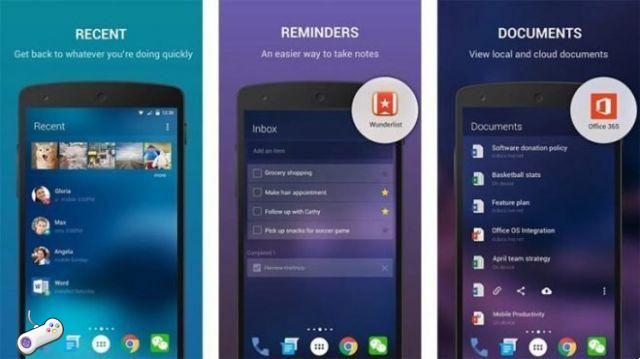 Testimony of Microsoft's interest in Google's operating system, Microsoft Launcher is a pretty well designed android launcher that should delight any organization maniac. While the home screen lets you view your apps, you can also set up a multitude of home screens with your contacts, reminders, documents, and the apps you use the most. We recognize Microsoft's legacy and its taste for organization.
Nova Launcher
Let's start with one of the best known, if not the best known. Highly customizable, Nova Launcher offers for a short time a new feature to completely harmonize your icons, whether they come from different packages or not.
The many options and settings are hidden in a very successful launcher both aesthetically and practically. It is getting closer to other great launchers like Apex. Very ergonomic, it offers very useful functions and has been designed for the latest version of Android and works perfectly on smartphones as well as tablets.
Numerous icon and theme packs
Customizable application menu (sizes, backgrounds, ...)
Customizable interface
Very smooth scrolling
Temi Android 7.0 disponibili
Themes for Nova available on the Play Store
POCO Launcher: that of the Pocophone F1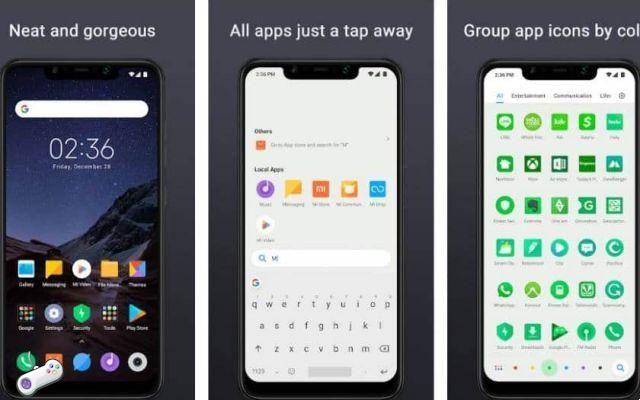 The new brand launched by Xiaomi has a different launcher from the one proposed on the MIUI company's smartphones. The Pocopohone F1, the first smartphone with good value for money, has this launcher which will probably appeal to European users more as we notice the presence of an application menu and a more tempting aspect.
Design intuitive
Numerous icon and theme packs
Keep your apps private by hiding their icons
Fast and smooth
Solo launcher
Millions of users have trusted him, which is reflected in his very high ratings Just Launcher. This launcher will be your faithful companion in the business of redesigning and customizing the classic Android interface you are currently sporting. Very simple and fluid, the application is completely free but still allows you to enjoy great freedom of customization.
Completely free
Smooth and fast interface
Great collection of themes
Cute animations
Google Now integration
Square Home 2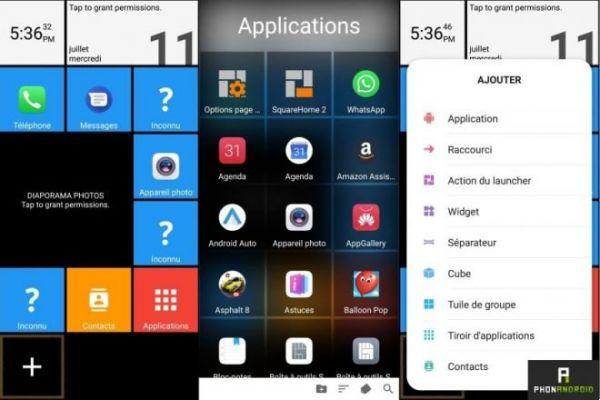 The launcher Square Home 2 it differs with a very personal interface that adopts squares like Windows Phone. The applications menu is examined and you can select which ones to display on the main desktop. So we can also count on help to start the application to stop and change some settings such as effects, for example. A free version and another paid version are available on the Play Store.
The Metro-style user interface can also be used on tablets
The magnificent effects of Windows
Display of notifications and tiles
Smart application menu
Quick access to your contacts.
Many customization options
TSF Launcher 3D Shell
The approach of TSF Launcher 3D it's a bit confusing at first. The 3D animations are numerous and pepper everything. We can position the icons as we see fit, the interaction possibilities are almost endless. The publisher announces over 200 features, it is easy to manage this Launcher with one hand, as we can see in the video presentation. A Launcher to consider and that we recommend you try. The app is available for free on the Play Store!