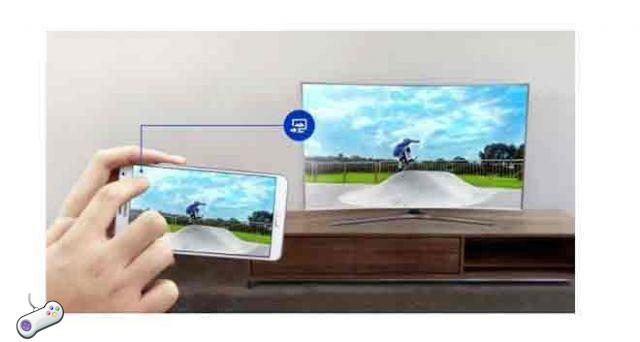 If you have a Samsung smartphone and a Samsung TV, it is easy to share content from your phone to the larger screen with screen mirroring or casting. Here's how to connect your Samsung smartphone to a Samsung TV.
There have been various ways to do this over the years, but Samsung is now moving screen mirroring features into its SmartThings app. Older devices can still use Samsung Smart View and Wi-Fi mirroring to view Samsung phone content on the TV.
How to connect a Samsung phone to a Samsung TV with the Samsung SmartThings app
Samsung's SmartThings is a way to automate your home with a variety of smart devices. The SmartThings app controls everything and one of its many functions is screen mirroring from your Samsung phone to your Samsung TV.
Before you begin, make sure your smartphone and TV are on the same wireless network and make sure the TV is turned on and connected to your SmartThings account.
1. Open the SmartThings app on your Samsung smartphone.
2. From the Dashboard, select your TV.
3. Select More options (three dots) from the top right corner of the screen.
4. Tap Mirror Screen (Smart View).
You will see the contents of your phone on the TV screen.
Cast content to your Samsung TV
Another way to view your Samsung phone content on your Samsung TV is with screen casting via a Chromecast device and the Google Home app. To do it:
1. Plug in your Chromecast device and turn on the TV.
2. Set the TV's input to HDMI.
3. From the Google Home app, select Add> Configure Device, then follow the instructions to set up your Chromecast.
4. Select and open a Chromecast compatible app on your phone, then tap the Cast button.
5. Enjoy your content broadcast on TV.
How to connect a Samsung phone to a Samsung TV with Samsung Smart View
Samsung Smart View app is another way to mirror content from your Samsung smartphone to your Samsung TV. As of October 2020, Samsung no longer supports this app, as it focuses on the SmartThings app and ecosystem.
Although new users cannot download Smart View after October 2020, those who already have the app can still use it to mirror their phone screen to TV. Optionally, use a casting dongle, such as Chromecast, with Smart View.
On some Samsung TVs, you may need to turn on screen mirroring by going to Source> Screen mirroring or Network> Screen mirroring.
1. Make sure your Samsung smartphone and Samsung Smart TV are connected to the same Wi-Fi network.
If you're using a Chromecast, make sure it's connected to the same Wi-Fi network as your Samsung smartphone.
2. From your phone, drag the notification bar down to bring up the app shortcut menu.
3. Scroll to find and tap Smart View.
4. Choose your Samsung TV. You will see the screen of your Samsung smartphone or tablet appear on the TV.
If this is your first time setting up screen mirroring with Smart View, select Allow with your TV remote when the TV asks you to confirm the connection. When done, tap Smart View on your phone to disconnect and stop mirroring.
How to connect an old Samsung phone to a Samsung TV
If you have older Samsung devices that aren't supported by SmartThings or Smart View, you can still mirror your phone's content to your Samsung TV.
To get started, for some older models, press the Source button on the remote, then select Screen Mirroring. For other models, press Menu on the remote control, then select Network> Screen Mirroring.
1. Drag down the notification bar on your Samsung phone.
2. Select Screen Mirroring (on some devices, you will select Quick Connect).
3. The device will search for available devices to connect to. Choose your TV from the list of available devices.
4. If a PIN appears on the TV screen, enter the number into your smartphone when prompted.
Once the connection is established, you will be able to open most of the apps and programs from your Samsung smartphone and they will mirror on your Samsung Smart TV.