Middle-earth Shadow of Mordor Secrets and Easter Eggs [PS4-Xbox One-360-PS3-PC]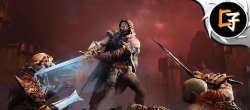 Let's see the curiosities hidden by the developers among the missions of Shadow of Mordor. Compared to other games we don't find much stuff, but a couple of things are there ...
Reference to Batman
After killing the Morgul bats at least once, check the relevant entry in the archive. At the end of the description you will notice a fairly explicit reference to a bat man who appears in the nightmares of the poor Uruk affected by the poison of these bats. Here is a video (in English)

Reference to assassin's creed
At first I didn't believe it, then seeing the face too, doubt becomes almost certainty. At some point you will find yourself fighting against a certain Raminghi Assassin. It may seem like a mere coincidence to you too, but this Uruk's headdress feeds suspicion. Check it out in the video
... and you have discovered other secrets? Feel free to use the comments or post directly in our forum, we will update the guide with your feedback.