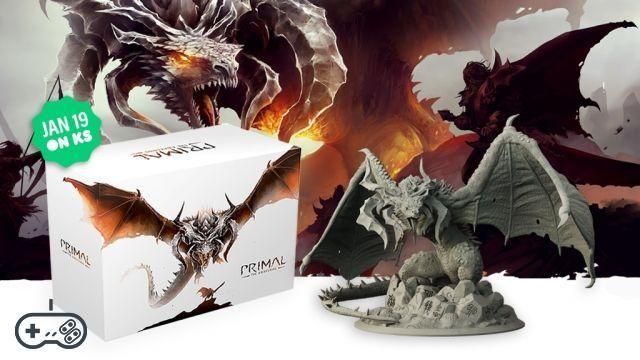 Primal: The Awakening is a cooperative board game in a fantasy setting for 1 to 4 players, created by Tommaso Mondadori e Alberto Parisi, coming January 19th on Kickstarter. In each game of Primal: The Awakening, players will play as heroes (among four available) tasked with facing and defeating a huge monster. The title offers two game modes: it will be possible to face a single expedition, selecting your characters and the enemy without particular restrictions, or to undertake a campaign, facing enemies one after the other, improving your deck during the adventure and equipment (also using body parts from downed enemies).
The terrain of the clashes is one tactical map divided into four sectors, at the center of which will be the monster. Using custom decks of cards, the heroes will move around the enemy to hit him in different points and with different types of attack, but also performing maneuvers, parries and dodges. All this happens in coordination with the other members of the team and paying attention to the different types of terrain, the creature's reactions and its next moves.
The game materials shown so far are of the first order: in addition to the four heroes, very well characterized, they are included in the box the numerous miniatures of monsters, including a huge dragon. To follow the updates we suggest you visit the publisher's official page, which you can access through the following link. Do not forget above all to click the button to receive the notification at the launch of the Kickstarter considering that, following what has been leaked so far, there will be some specific rewards for early birds, that is, for the first buyers of Primal: The Awakening. We can't wait to find out more details about the Reggie Games, which we will obviously bring back to our pages, stay tuned to find out more!