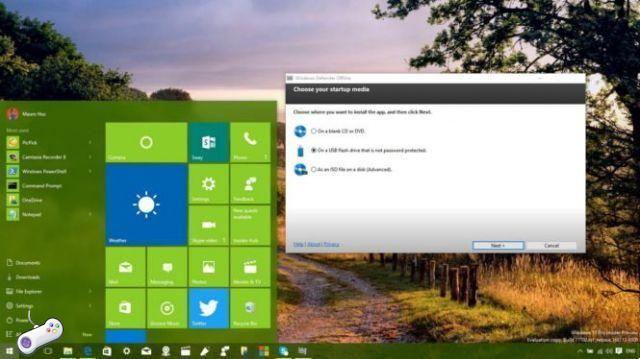 Windows 10 includes a default antivirus: Windows Defender. It is therefore not mandatory to install one when this works well enough, in case you decide to install a third-party antivirus Windows Defender deactivates itself.
In this article we will see how to run a virus scan with Windows Defender. Unlike other types of security suites this one Security Center offers fewer features, but they are enough if we know the internet and its pitfalls.
On the other hand it is also much more discreet than its competitors which also install themselves in the system tray, in the form of shortcuts on the desktop or which interrogate the user regularly. It also has an interface with some settings and the ability to scan a file or scan the entire computer. But how is it done?
How to delete the Windows.old folder in Windows ...
Windows 10: Run a virus scan with Windows Defender Security Center
Open the Windows 10 settings via the Start button or via the Search box.
Now click on "Windows Defender" in the list on the left and in the right part of the window click on the "Open Windows Defender Security Center" button.
By doing so, you have activated the Windows Defender interface. Go to the section "Virus and threat protection".
Click the "Security Update" link to check if the latest virus definitions date is recent.
If they are not recent, click the "Check for updates" button.
In front of you you will see the "Quick analysis" option, which will only analyze the areas at risk, the frequently infected ones, or the "Advanced analysis" option which will allow you to analyze all the files or perform the customized analysis that allows you to choose a specific disk or folder to scan.
With the quick scan it will take a few minutes to receive the result, it will appear in the notification area.
If you choose to run a full scan or scan a large file, the scan time can be very long and hinder your PC use. In this case, choose to start scanning when you are not on your computer.
If you can't or have any problems, don't hesitate to ask in the comments box.
How to install two monitors on one computer