Dark Souls 3: Guide to Beat Lothric, Second Born Prince [Boss Walkthrough]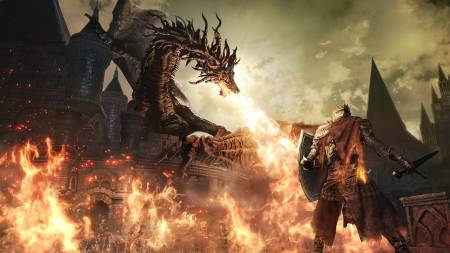 Let's see how to defeat all the bad guys Dark Souls 3: let's dry Lothric, Second-born Prince.
In this guide we see how to beat one of the fearsome bosses in Dark Souls III. For all the other bosses and other guides on the game, don't forget to also consult the complete guide and tricks card of Dark Souls 3.
How to kill Lothric, Second Born Prince:
Recommended character level: 80+
Weapon used: Broadsword
Achievement / Trophy unlocked: Lord of the Coals, Lothric

Below is a video showing the best strategy to beat this boss, followed by some tips to consider:
Lothric, the Second Born Prince is the seventeenth boss of Dark Souls III.
Lothric and Loren are the last Ember Lords in the game. Find them in the Lothric Castle area after killing the Dragon Slayer Armor. Lorian is the boy with the burning sword and Lothric is the one who revives him in the second part of the fight.
Lorian is very aggressive, attacks quickly and deals a lot of damage, but has no defensive measures. A good strategy can be to roll behind him and deal a few hits. If you have a lot of Estus flasks and an upgraded weapon, it is also worth taking a few more shots to take it down as soon as possible.
Sometimes he teleports behind you, which makes shield parries useless, so stay behind him and try to hit him from there. In the second part of the fight Lothric is sitting on his back, so make sure you always attack from behind. When Lorian goes down you have a few seconds to focus his attacks on Lothric. When Lothric dies Lorian also dies automatically.
The important thing is not to let it revive too often because your health is not infinite. Make sure you dodge all of his ranged magic attacks as they deal a lot of damage.