Dead Space 3 - How to Unlock Intact Achievement / Trophy [360-PS3]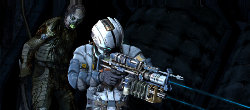 In this guide we see how to unlock the Trophy / Objective "Intact" from Dead Space 3.

Complete the drill room without taking damage

You can unlock this achievement during Chapter 10.
During this chapter you will need to reach a drilling site.
To achieve this, it is necessary to do the entire stretch without being hit by any enemies.
If by any chance you get hit, save and exit to try again.
If you have a co-op partner to play the mission, your friend will not get the result and you will have more enemies to beat, reducing the chance of having him unlocked too.
There are 3 steps to follow to best complete this section.

- Step 1: Unlock the drill and stand in front of the charging station and use the stasis on the drill.
When the drill comes out, stand still and focus killing the enemies in front of you that come out of the chasm.
When you have some time, use the stasis and shoot the mouth of the drill.
Now take care of killing all the enemies still alive.

- Phase 2: In this phase, you will have to worry about the enemies coming from the vents.
Do your best to keep the number of enemies in check and don't get overwhelmed, and when you've slimmed down the group a little, release the stasis and shoot the center of the drill again.
This is probably the most difficult stage to complete.

- Phase 3: This phase, on the other hand, is the simplest.
When the drill comes down again, wait a bit, and use the stasis, firing once more in the top center.
All enemies that once were around (devourers) will now vanish.
Complete the way to the elevator door and the result should unlock.
Here are a couple of videos showing how to unlock this achievement