Deadpool: all the secrets and Easter Eggs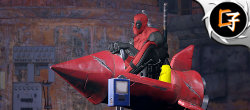 The time has come to discover the most delicious easter eggs and curiosities in the game dedicated to that joker from DeadPool, released a few weeks ago on Xbox 360, Playstation 3 and PC.
Considering the humor and rightly irreverent streak of this game that sees as the protagonist one of the most "anti" anti-heroes ever conceived, frankly, I expected a little more. We have found these, if you have noticed something else, all you have to do is report in the comments or in the forum.
Check out Deadpool's cheats and guides tab for more guides on this game.
Old-fashioned game: the retro-Deadpool
In Chapter 3 the view of the game completely changes taking us back in time when the 8-bit vertical scrolling games were the masters. The in-game comments about it are also delicious.

A case with a JRPG flavor
At some point in the game you will come across an antique-style chest. Open it to discover that there is not a worthy club inside, and enjoy the animation with the decorations on the screen worthy of the best JRPG. In spite of everything, you will receive an upgrade to the teleportation skill. Better than nothing...

Even the X-men have a great time
In chapter 5, when you are looking for Blockbuster to save Rogue, you will find yourself in a kind of pool party. If you look closely (as well as a nice mule in the foreground) you will notice some important similarities with some X-men: Gambit on keyboards, Domino dancing, Psyloke and Vertigo in the pool. Watch the video

Talk to yourself, using the telephone. Deadpool can
At the start of the game Deadpool will make a phone call and speak directly to Nolan North, our hero's official voice actor. Watch the video

Reference to the Ninja Turtles
In the sewer level in the corner you will see a pizza box with a Sai dagger stuck in the center. So, sewers + pizza + dagger you know, is it or is it not a clear reference to the mythical Raphael of the Ninja Turtles? Watch the video

Deadpoll on social media
For this easter egg it's hard to comment without spoiling the plot, so no comments. If you finished the game and didn't notice, watch the video and have a laugh.
ATTENTION, IT CONTAINS SPOILERS