Deadpool - Achievements List + Secret Achievementss [360]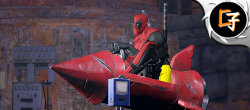 Here is the complete list of Deadpool's Xbox 360 Achievements
The bouncy castle
Complete "First Assignment".
20G
49 in 5
Go from the studio entrance to the meeting room without dying in 5 minutes.
10G
In the hall, breaking into you
Make a combo over 40 before they block the elevators.
10G
The second is also free
Be nice.
20G
The first is free!
Move your sculpted butt.
10G
Waiting for company
Make a thousand pancakes.
10G
What a match!
Play with Deadpool junk.
20G
Prova a prendermi
Defeat Arclight without taking damage from his violent attacks.
10G
Drunk view
Use all three switches, defeat the two phasers and chase Vertigo in 60 seconds.
20G
Now or never
Complete "Risks To Take".
20G
Forbidden to surrender
Slap Wolverine several times.
10G
Curiosity about Cable
Find out "Who the fuck is Cable?".
10G
Total silence
Stealth kill 4 enemies in the tower square.
10G
Caribou shoe
Complete "Genosha".
20G
Fish out of water
Cross the toxic river without falling into it, without touching the water and without taking damage.
10G
Marpione
Interact with all the ladies in the surprise party room.
10G
Quiet and deadly
Stealth kill with every melee weapon in Sinister's lair without being spotted.
20G
Lady Deadpool
Complete "Landing in Prison".
20G
Fair champion
Set a record at the carnival.
10G
Excavations in progress
Find 11 treasure chests in the dark inside the tombs.
10G
ARRR, pirates!
Overcome "Death, Honey" while wearing the pirate hat.
10G
Beyond death
Complete "Death, Honey".
20G
More and more Deadpool!
Collect all DP points and bathroom ammo.
10G
Death to technology!
Shoot the copier in the bridge offices.
10G
I open every door!
Complete "Break In!" in 10 seconds.
10G
JR's great adventure
Complete "The Road to Victory".
20G
Let's go!
Overcome floating debris without falling.
10G
Get this, Wolverine!
Complete "The Gates of MALEEE!" from start to finish without dying.
10G
It's a trap!
Achieve a combo of 75 or more as you battle the stairs in "The Gates of MALEEE!".
10G
A left joke
Complete "The Gates of MALEEE!".
20G
I am Deadpool
Complete "The Gates of MALEEE!" from start to finish using only swords and guns.
30G
No Deadpool? No party!
Complete the game on Veteran difficulty.
30G
Deadpool? Pure madness.
Complete the game on Ultra Violence.
30G
Do you have a lot of free time?
Complete "Landing in Prison" without fighting back.
50G
I can? Please!
In "Genosha", reach the fan using only hammers and pulse rifles.
50G
Tacos savior
Collect 100 tacos.
10G
No balance
Purchase all player upgrades.
30G
Cold blood
Beat an entire wave with a combo in a gold challenge map.
50G
Throw the safety, the grenade does not
Kill 15 enemies while holding an activated grenade.
50G
Delusion of omnipotence
Fully upgrade all weapons.
50G
Look at me, mom!
Make a 300 hit combo.
50G
Deadpool's Secret Goals

HELLO FRIENDS!
Do not suffer damage on the waterslide.
This game is rigged!
Shoot everything from the Wheel of Madness (balloons and cow).
Play!
Eheheh, good times.
End of the game!
Stealth kill Sinister in prison with the sword.
Repeated massacre
Die 10 times in a row on the floating stairs.
Only if he stops breathing
Set the speech volume to zero.
Is patience a virtue?
Choose to wait the entire line at the carnival.
Gold rush
Complete five gold challenges.
Up the shields
Complete a Gold or Silver Challenge by counterattacking at least 25 times.