DMC Devil May Cry - How to unlock rare designs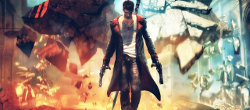 In DMC Devil May Cry it is possible to unlock very rare drawings ..........
By playing DMC Devil May Cry you will surely have unintentionally unlocked some concept art (drawings or illustrations for the less English-speaking). You must know that in addition to those that are unlocked almost involuntarily there are others much more sought after and rare that require much more effort to be unlocked. Here's what you need to do to unlock rare concept art:
Rare Design # 1 Use the Devil Trigger 666 times
Rare Design # 2 Play for 60 hours
Rare Design # 3 Total damage of 5,000,000 points
Rare Design # 4 Complete 60 missions with SSS rating (any mission)
In short, this is not exactly a walk in the park. Were you able to unlock any of them? Say it in our forum!