Gears of War Judgment - Unlockable weapons, characters and skins for multiplayer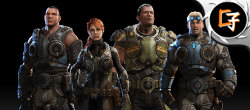 Here is the complete list of items to unlock (or buy ...) in Gears of War Judgment.
The new Gears of War Judgment brings with it a fairly long list of objects and characters which can be unlocked to customize your character in online matches.
Below we propose the list of characters, customizations, skins and unlockable costumes indicating for each object what needs to be done to get it.
Unfortunately Epic has really sold it to everyone, many items are in fact linked to the pre-order of the game from this or that other large chain of stores, many others can only be purchased with the micro-transactions introduced in the game. By doing a quick count, out of all this stuff only about fifteen items can be unlocked just by playing. The positive note, for those who are consoled with little, is that in any case the objects that can be purchased do not guarantee advantages in terms of gameplay.
Unlockable Multiplayer Characters:
Baird (Aftermath):
Unlock any achievement.
Cole (Aftermath):
Survive 10 waves in Survival
Paduk (Aftermath):
Complete the Aftermath campaign
Loomis:
Complete the main campaign
Ming:
Earn 10 Stars (campaign)
Tai:
Earn 126 Stars (campaign)
Onyx Guard (Men's):
Become a VIP (buy the Season Pass)
Onyx Guard (Donna):
Become a VIP (buy the Season Pass)
Anya Stroud:
Bonus pre-ordine Walmart
Tai (Jungle):
Brisk exclusive promotion
Alex Brand:
Bonus pre-ordine Best Buy
Marcus (young):
Gamestop pre-order bonus
Dom (young):
Amazon pre-ordine bonus

Costumes / Multiplayer Character Skins:
Skeletal:
Earn 80 Stars (campaign)
Chrome:
Unlocked randomly with a Normal Prize Box
Copper:
Unlocked randomly with a Normal Prize Box
Bee:
Unlocked randomly with a Rare Prize Box
Gold:
Unlocked randomly with a Rare Prize Box
Cel-Shaded:
Unlocked randomly with an Epic Prize Box
Mummy:
Unlocked randomly with an Epic Prize Box
Brisk:
Brisk exclusive promotion
Arctic:
Become a VIP (buy the Season Pass)
B:
Become a VIP (buy the Season Pass)
Dark Carnival:
Become a VIP (buy the Season Pass)
Plaid:
Become a VIP (buy the Season Pass)
Astro Division:
Available for purchase only
Bacon:
Available for purchase only
Candy cane:
Available for purchase only
clown:
Available for purchase only
Deadly Cute:
Available for purchase only
Groovy:
Available for purchase only
Harlequin:
Available for purchase only
HBPD Blue:
Available for purchase only
Inmate:
Available for purchase only
Ladybug:
Available for purchase only
Neon:
Available for purchase only
Paintball:
Available for purchase only
Program:
Available for purchase only
Skeletal:
Available for purchase only
Super Hero:
Available for purchase only
Tiger Stripes:
Available for purchase only
zombie:
Available for purchase only
Burning:
Available for purchase only
Cascade:
Available for purchase only
Cracked:
Available for purchase only
Digital:
Available for purchase only
Double rainbow:
Available for purchase only

Weapon Customizations:
Reaper:
Kill an Epic Reaper
B:
Game Guide Exclusive Bonus
Brisk:
Brisk Exclusive Bonus
Classic Hammberburst (new weapon):
Gamestop pre-order bonus
Lambent:
Gamestop pre-order bonus
Paintball:
Expertzone exclusive bonus
Team Metal (Blue and Red):
Exclusive bonus obtained with LIVE Gold cards
Team Pulse:
Bonus Social Media
Burn Spray:
Unlocked randomly with a Normal Prize Box
Chrome:
Unlocked randomly with a Normal Prize Box
Gold:
Unlocked randomly with a Rare Prize Box
Rib Cage:
Unlocked randomly with a Rare Prize Box
Onyx:
Unlocked randomly with an Epic Prize Box
Xbox:
Unlocked randomly with an Epic Prize Box
Ares Bronze:
Become a VIP (buy the Season Pass)
Flames of Judgment:
Become a VIP (buy the Season Pass)
Hazardous:
Become a VIP (buy the Season Pass)
Hot Rod:
Become a VIP (buy the Season Pass)
Zebra:
Become a VIP (buy the Season Pass)
8-Ball:
Available for purchase only
Aurora:
Available for purchase only
Candy:
Available for purchase only
Car #13:
Available for purchase only
Comic:
Available for purchase only
Double rainbow:
Available for purchase only
Electrostatic:
Available for purchase only
Groovy:
Available for purchase only
Imperial:
Available for purchase only
Melon Farmer:
Available for purchase only
Mod Culture:
Available for purchase only
Pink Rabbit:
Available for purchase only
Shark:
Available for purchase only
United:
Available for purchase only
Wood:
Available for purchase only
X ray:
Available for purchase only