God of War Ascension - Deteriorated Chests Guide ["If Ain't Broken" Trophy]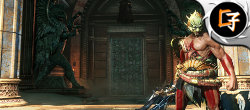 God of War Ascension Collectibles Guide: The Deteriorated Chests
Finding and rebuilding all of the deteriorated chests in God of War Ascension will help you unlock the trophy
If it's not broken - Rebuild all deteriorated chests
There are 7 chests in total and in order to rebuild them you will need to have the Uroborus amulet that will be automatically delivered to you at the beginning of Chapter 13. The first chest is in chapter 13, the last in chapter 19, if you die or leave from checkpoint you will have to repeat again.

Remember that you have to rebuild the chests during the campaign, if you do it starting from the menu "select chapter" you will not unlock the trophy.
Here is a video showing where all the chests are located.
All other guides are collected in the God of War Ascension cheats tab.