Titanfall: How to Reach the Highest Generation [Xbox One - 360]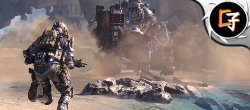 Here's how to evolve, from generation to generation, in Titanfall.
Gudia Goal "Gen 10"
As we saw in the guide to leveling up in Titanfall, the game's ranks climb quite quickly. But the story does not end when the maximum level (50) is reached for the first time because there are 10 Generations to climb. It all works like this:
each time you reach level 50 and complete the challenges related to the generation you are in, you have the opportunity to regenerate. This will reset the player's level, challenges and unlocked weapons. You will then pass to the next generation keeping only the unlocked Titans and burns cards. Going up from generation to generation you will also have a multiplier bonus on the XP earned.
The important thing to know is that in order to pass to the next generation, in addition to reaching level 50, you will also have to complete the required challenges, i.e. those listed in the list below.
IMPORTANT: follow the Titanfall achievement guide for help unlocking all game achievements.
Generation 1
Generation 2
1.1x XP Bonus
EVA-8 Shotgun: 200 enemies killed
EVA-8 Shotgun: 75 pilots killed
Titan 40mm Cannon: 200 enemies killed
Titan 40mm Cannon: 50 Titans killed
Generation 3
1.2x XP Bonus
R-97 Compact SMG: 200 enemies killed
R-97 Compact SMG: 75 pilots killed
Titan Plasma Railgun: 100 enemies killed
Titan Plasma Railgun: 50 Titans killed
Satchel Charge: 50 pilots killed
Generation 4
1.3x XP Bonus
Longbow-DMR Sniper: 150 enemies killed
Longbow-DMR Sniper: 50 pilots killed
Titan Quad Rocket: 200 enemies killed
Titan Quad Rocket: 50 titans killed
Charge Rifle: 30 critical hits
RE-45 Autopistol: 50 pilots killed
Generation 5
1.5x XP Bonus
R-101C Carbine: 200 enemies killed
R-101C Carbine: 75 pilots killed
Titan Arc Cannon: 200 enemies killed
Titan Arc Cannon: 50 Titans killed
Sidewinder: 10 Titans killed
Gooser: 5 ejected pilots killed
Generation 6
1.8x XP Bonus
Spitfire LMG: 200 enemies killed
Spitfire LMG: 75 pilots killed
Titan Triple Threat: 200 enemies killed
Titan Triple Threat: 50 titani uccisi
Mag Launcher: 10 Titans killed
Rodeo: 50 titans killed
Generation 7
2.1x XP Bonus
G2A4 Rifle: 200 enemies killed
G2A4 Rifle: 75 pilots killed
Titan XO-16 Chaingun: 200 enemies killed
Titan XO-16 Chaingun: 50 titans killed
Titan Charge Rifle: 10 Titans killed
Stryder Titan: 25 Executions
Generation 8
2.5x XP Bonus
CAR SMG: 200 enemies killed
CAR SMG: 75 drivers killed
Atlas Titan: 25 Executions
Archer Heavy Rocket: 10 Titans killed
Win 100 games (any mode)
Titanfall: 50 enemies killed
Titan 40mm Cannon: 75 critical hits
Generation 9
2.9x XP Bonus
Smart Pistol Mk5: 75 pilots killed
Hemlok BF-R: 75 pilots uccisi
Krabr-AP Sniper: 25 pilots killed
Ogre Titan: 25 Executions
General: 50 Best Player Award
Cloak: 200 enemies killed
Mobility: 75 Kills After Ejecting
Titan Plasma Railgun: 50 critical hits
Titan XO-16 Chaingun: 400 critical hits
Generation 10
Here is also a video showing what to do with the regeneration