Guide / Solution to all the Dragon Age Inquisition Astrariums [PS4-Xbox One-360-PS3-PC]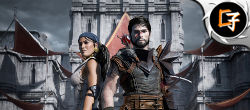 During your adventures in the world of Thedas you will come across several Astrariums, marked on the map with a star icon inside a circle.
Objective Guide / "Astronomer" Trophy

When you get close to the Astrarium you will have to interact to start a puzzle / minigame that will ask you to connect the dots made up of the stars to create the design of the constellation represented at the bottom right of the screen. The difficulty consists in joining the lines without ever passing through the same segment twice (the lines, however, can cross lines that have already been drawn).
You will need several tests for each Astrarium and you will hardly be able to complete one on the first try. If you have any difficulties, below you will find videos showing how to solve them all. Good luck
Don't forget to also consult the Dragon Age Inquisition cheats and guides tab for other useful guides on this game. Here are the videos
Solution of the Astrariums in Crestwood
Solution of the Astrariums in the Hinterlands
Solution of the Astrarium in Storm Coast
Solution of the Astrariums in Western Approach
Solution of the Astrariums in Emerald Graves