Far Cry 3 - How to Make a Special Syringe [Good Stuff]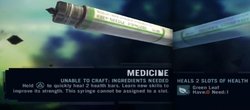 Guide to unlocking the Far Cry 3 "Good Stuff" Achievement and Trophy
Prepare a special syringe
To prepare a special syringe You will first need to find at least 30 relics. A total of 120 relics are scattered all over the game world, so you shouldn't have any problems getting to 30. In any case, you can buy the map showing the location of all the relics in the game stores.
After recovering 30 relics you will get the recipe for one special syringe called "Untouchable" which allows you to become invulnerable for a few seconds.
The ingredients for this recipe are:
2 white leaves (X: 449.1, Y: 738.9)
5 blue leaves (X: 504.4, Y: 727.1)
5 green leaves (X: 430.2, Y: 748.9)
If you are already playing Far Cry 3 you know very well that these leaves can be found almost everywhere, in any case on the side you will find the coordinates of places where you can easily find them. Below you can also watch a video that shows the whole process to create the special syringe and unlock the result.