Metro Last Light: guide to find the special gun [A gift]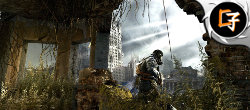 The gun with the shots, the best gift of my life.
How to find the special pistol and unlock the "A Present" achievement / trophy
In Metro Last Light, finding the hidden special gun is quite simple, here's how to proceed.
As soon as the "Warehouse" chapter begins, you will pass through a heavily guarded area. AVOID getting caught and immediately move to the right to hide behind some crates. Wait for the guards to finish speaking, then follow the movements of one of them advancing in the direction you came from. Follow the guard without getting caught, when he gets close to the lockers let him open them and then take him out. Inside the locker you can take the special gun and unlock the achievement.
Here is a video showing exactly how to do it

The guide to unlock all Metro Last Light Achievements and Trophies is available. More guides on this game in the cheats tab.