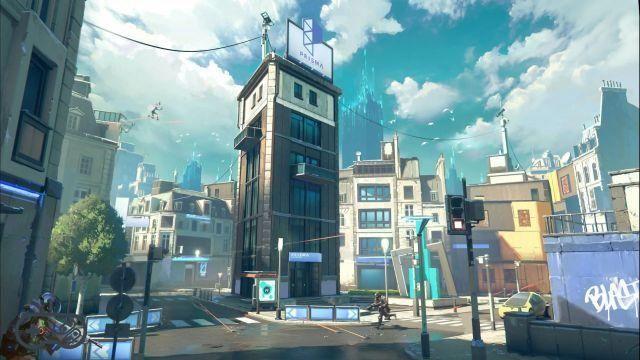 After the rumors that have made him a protagonist in recent days, Hyper scape, the battle royale video game by Ubisoft has finally been announced, and is shown for the first time in a trailer. Set in a large and futuristic city, the video game promises to offer a revolutionary and completely different gaming experience compared to that of the titles of the same genre currently on the market, including PUBG and Apex Legends. Hyper scape will be released later this summer on PlayStation 4, PC and Xbox One, and marks the debut of Ubisoft in the vast panorama of battle royale.
The game will offer players the chance to fight to the death as you explore the streets, interiors and rooftops in the unique sectors of Neo Arcadia, a virtual city with impressive monuments that redefine the meaning of verticality. In Hyper scape there are two ways to win, which is to fight to be the last survivor or capture the crown which will appear on the playing field towards the end of the game. Players will need to hold the crown long enough for their team to earn victory. But what makes the title different from those already available on the market is the extension to Twitch Crowncast, which will allow spectators to vote among some effects that will affect the game of all players in real time.
In addition to this players will have the ability to use a large number of special skills calls hack, to be able to change the cards on the table:
Teleport - Want to get somewhere fast? Teleport allows you to aim to a distant place and reach it in the blink of an eye.
Crash - Catapult into the air and crash to the ground, damaging and knocking back the enemies around you.
Healing - Stay close to your friends and this area hack will keep them healthy and ready to fight.
Invisibility - Take opponents by surprise or instill doubt in them by concealing your presence for a limited time.
Wall - No shelter nearby? Use this hack to instantly create a solid wall between you and your enemies.
Mine - If opponents get too close to this proximity mine, they trigger it and unleash a devastating explosion.
Armor - Activate this hack to turn yourself into a fortress and take less damage.
Revelation - Information is everything. The Revelation hack indicates the location of enemies close to you and your team.
Sphere -Turn into a bouncy ball. Need to say more?