Lost Planet 3: tricks to have infinite T Energy [360-PS3-PC]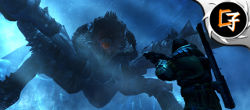 Here is a fairly simple trick for accumulate a lot of Thermal Energy in Lost Planet 3. In order to take advantage of this exploit and earn infinite money you must first obtain the upgrade of the Acetylene torch for your rig. It is one of the power-ups that you get as you progress through the game and complete missions.
Once you have this upgrade, you can head to the point where T-energy farming is possible, which is the Marshall's Gorge. Then load this level, turn around and head to the area where you will have to fight and kill the giant crab.
Once done, go back and use the "fast travel" to go anywhere else you like, then return to Marshall's Gorge to fight the crab once more. Repeat this process as many times as you like to accumulate all the T energy you need (going fast you will gain about 5000 T energy every 15 minutes). Remember that from a certain point in the main story the fight with this crab will no longer be available, so do it as soon as possible.
Here is a video that shows what has just been said