Metal Gear Rising Revengeance - Cheat to unlock Revengeance difficulty level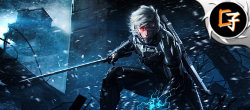 A small shortcut to have all difficulty levels immediately available.
Metal Gear Rising Revengeance is a game that will make the most savvy players happy. Basically it certainly cannot be defined as an easy title to play, but know that this is only the beginning. Continuing to play and completing the game a first time on the "Very Hard" difficulty level adds an even harder one, the very terrible difficulty "Revengeance".
If you are feeling impatient to get sliced ​​to the highest difficulty possible, know that there is a way to play Revengeance difficulty right away. To unlock it, proceed as follows:
in the main menu, after pressing Start, type the Konami code, or this key sequence:
X-box 360: Up, Up, Down, Down, Left, Right, Left, Right, B, A, Start
PS3: Up, Up, Down, Down, Left, Right, Left, Right, O, X, Start
if you have entered the Konami code correctly you will hear Raiden's voice saying the title of the game. Now, starting a new game you can choose between all the difficulty levels in the game which are:
Easy
Normal
Difficult
Very difficult
Revengeance
The process is quite simple, here is a video anyway