Metro Last Light: Achievements List + Secret Achievementss [360]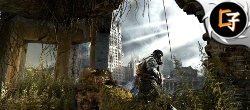 Here is the complete list of Metro: Last Light Xbox 360 Achievements
Invisible intruder
Complete the SEPARATION level without killing anyone or setting off the alarm.
20G
Perfect escape
Escape the Imperialists in the EMPIRE level on the first try.
10G
Rabbit
Complete the training sequence.
10G
Soldier
Kill 100 human enemies.
15G
Antibiotic
Kill 100 mutants.
15G
Ombre
Stealth kill 15 enemies.
20G
Inferno
Set 2 enemies on fire at the same time.
10G
Tesla
Destroy 50 lights.
10G
Edison
Turn off 40 lights without destroying them.
15G
Always on guard
Deactivate 10 traps.
10G
Business man
Complete 100 purchases.
10G
Walking bank
Accumulate 1000 military-grade bullets.
10G
Musicista
Use all the musical instruments in the game.
10G
First draft
Write 10 secret pages of Artyom's notebook.
10G
Published
Complete all 43 secret pages of Artyom's notebook.
30G
Not a rabbit
Finish the ASHES level without getting hit.
10G
A gift
Collect the special pistol from the locked box.
10G
Invisible Savior
Complete the WAREHOUSE level without killing anyone or setting off the alarm.
20G
Tartaruga
Belly 10 spiders.
10G
Topo
Complete the ECO level without being spotted by the Wardens.
10G
Patron of the arts
Watch the entire play.
10G
Fuori controllo
Kill all armed enemies, including reinforcements, on the REVOLUTION level.
10G
Invisible soldier
Complete the REVOLUTION level without killing anyone and setting off the alarm.
20G
Hurry up
Kill all the Keepers before they reach the wagon.
20G
Commando
Rescue the women and children on the BANDITS level without setting off the alarm.
15G
Soup
Kill 5 shrimp with one grenade.
15G
nostalgia
Find and return the teddy bear to the crying baby.
10G
Diver
Fall 10 times in the swamp.
10G
Equipped
Find all the equipment hidden in the swamps.
20G
Forgotten treasure
Find the ammo hidden in the abandoned part of the station in the QUARANTINE level.
15G
Thirst for blood
Kill all the Reds in the CHALLENGE level.
10G
Van Helsing
Kill a demon using the Khel'sing.
30G
Rain man
Complete the BRIDGE level without killing anyone.
30G
Back to the past
Experience all the visions in the Dead City.
20G
True Spartan
Defend the platform without dying.
50G
No guns in here
Kill 10 enemies in a row with throwing knives.
10G
Gunman
Kill at least one enemy with every available weapon in game.
15G
Gunsmith
Install all possible modifications for a weapon.
15G
Shadow Ranger
Complete the game without killing any humans unless forced to.
70G
Secret Metro Goals: Last Light

Freedom!
Free the prisoners.
One step away from death
Escape the Red Line.
There 's no one home
Ignore the phone call in the anomaly.
Secret
Discover the reds' plan.
Mammona
Kill the Mammon.
Savior
Take off your mask when Lesnitsky asks you.
Revenge
Kill Pavel.
Guardian of the forest
Save the bear from the Keepers after the fight.
Revelation
Have Moskvin reveal the truth with the help of the Bleak.
That's life
Destroy the D6.
Redemption
Save the D6.