NBA 2k13 - How to unlock bonus shoes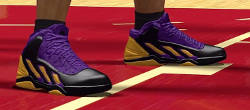 In NBA 2k13, in addition to those obtained in the normal course of the game, there are extra bonus shoes that can be unlocked by completing particular tasks.
Here are the unlockable shoes of NBA 2k13 and what you need to do to be able to unlock them:
Under Armour Charge BB: to get these shoes you simply need to unlock the "triple rain" achievement / trophy. For help on how to do this, see the NBA 2k13 Achievements and Trophies guide.
Under Armour Spine Bionic: successfully complete the Training Camp.