Trials Fusion - Guide collectible squirrels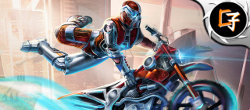 We find all the collectibles of the craziest racing game ever.
Objective / Trophy Guide "Bright eyes and funny tail"
To unlock this achievement we will have to find the 20 hidden squirrels in the first 8 events in the game. Having an account linked to Uplay will also unlock an Uplay action for finding the first squirrel. One of the extras that you can unlock with Uplay Points on this game is the super cool "Squirrel Elmet".
As in the previous chapters, it will not be a simple undertaking (like that of vodafone, hahaha, joke), indeed, some squirrels will be difficult to catch even knowing exactly what to do.
For this I propose a video that shows exactly how and where to find all the hidden squirrels.
Here is also the timeline, which lists the layers with the squirrels and the corresponding minute of the video where you can see how to catch them.
0:02 Waterworks
2:03 Observatory
3:17 Cliffhanger
5:19 Ski or Ride
6:19 Shear Pressure
7:43 Skyscraper Showdown
9:13 Park and Ride
10:33 Blimp my Ride
12:38 Marina Marina
13:35 Road to Ruin
14:30 Stormtrooper
15:44 Base Invader
17:13 Swamp Crash
18:21 Temple Trouble
20:24 Rocky Road
22:18 Eco Park
24:39 Cold Storage
25:25 Cave Dweller
26:01 Covert Ops
27:43 Jungle Gymkhana