Guide to ALL Murdered Soul Suspect Collectibles [PS4-Xbox One-360-PS3-PC]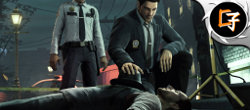 It will not be an easy task, but here is our guide for those who want to try it anyway.
Trophy Guide / "Super Collector" Objective
I finds to be revealed and collected are those related to the secondary missions of the game, that is "stories" on the ghosts to complete and at "information" to be collected on characters or other. This means the clues that you will have to collect on the various scenes of the main story DON'T count as artifacts, so you can also close a case with 10 out of 11 clues found without running the risk of not unlocking the result.
Another important thing to know is that if you have forgotten to take some artifacts, it will be enough for you retrieve them in a new game, as long as you remember exactly which ones you forgot, otherwise you will be forced to pick it up all over again.

Remember to collect ALL artifacts in the Museum before starting the investigation in the court (Judgment House). After that point, you will no longer be able to go back to retrieve the collectibles not collected in that area.
Can't find an artifact? The exhibits are in fixed positions, all shown in the guides I am about to propose. Despite this, some users report that they went to the indicated location and found nothing. If this happens to you too, try to move to another area of ​​the game in order to pass a load and then return to the place where you did not find the find, or go out to the menu and then reload the game with "Continue". This way the exhibit should appear correctly.
Here is now the list with links to our guides (divided by history) that show where to find all the finds of Murdered Soul Suspect.
ronan life information - 7 exhibits
life information baxter - 2 exhibits (see trophy guide)
life rex information - 2 exhibits (see trophy guide)
Cassandra life information - 7 exhibits
life information Julia - 38 exhibits
Assassin life information - 39 artifacts
Salem information - 25 exhibits
witchcraft information - 9 artifacts
story A tomb full of water - 7 exhibits
history The witch of the bell tower - 11 exhibits
story The Loyal Specter - 8 exhibits
history The funeral wreath - 13 exhibits
story Ghost man - 10 exhibits
story Terror on the tracks - 15 exhibits
history Ashes to ashes - 11 exhibits
history The eternal flame - 16 exhibits
ghostly messages - 23 exhibits