Lego the Hobbit - Cheat Codes [PS4-One-360-PS3-PC]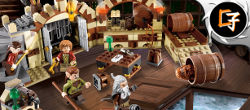 New game from the Lego series, new list of cheat codes
Cheats Lego the Hobbit
That of inserting cheat codes to unlock new characters or features of the game is a tradition that the creators of the Lego series games, unlike practically all the other developers, just don't want to give up.
So here we are with the cheat list that can be entered in the appropriate game menu (found under "Extras") to unlock playable characters.
As already happened in Lego The Movie, however, do not expect tricks like the infinite life, coin multipliers or similar. These are indeed there, but they can be activated ONLY by finding the relevant red brick (follow the guide to find all the red bricks).
Important: consult the guides tab of Lego The Hobbit for the guide to the red bricks and other useful guides on this game.
Here are the cheat codes to unlock the characters:
| | |
| --- | --- |
| Character unlocked | Cheat code |
| Alfrid | FAVZTR |
| Azog | 84ZZSI |
| Bain | W5Z6AC |
| Bard | UER3JG |
| Barliman butterbur | XTVM8C |
| Barrow Wight | 555R9C |
| Beorn | KEID2V |
| Bolg | FALSE |
| Braga | MXUXKO |
| Elros | H2CAID |
| Fimbul | THAVRM |
| Galadriel | 00TE7J |
| Gollum | 3CE37P |
| Grinnah | TPD7YW |
| Lindir | V4Y5HZ |
| Master of Laketown | 9NOK35 |
| Utilities | 4FYKKB |
| Necromancer | NM3I2O |
| Percy | 74KN31 |
| Peter Jackson! | 5OJEUC |
| Rosie Cotton | TB4S6J |
| Sauron | OARA3D |
| Thror | SYKSXF |
| Tom bombadil | 4Y95TJ |
| Witchking | V8AHMJ |
| Yazneg | S6VV33 |