Killzone Shadow Fall Secrets and Easter Eggs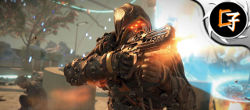 Killzone Shadow Fall also honors our section dedicated to easter eggs in games with a couple of surprises well hidden in the campaign levels.
Easter Eggs and references in Killzone Shadow Fall
Sprunk for everyone
Have you noticed these two guys? You probably have, but you probably haven't noticed the brand of the can they are holding. Does it remind you of something seen in GTA?

Who wants some cake
Sometimes developers can be really twisted. Look where they hid a nice piece of cake in "The Shadow" level.

Dark Trolls
Buwawhahwhahw, this is mythical. At the very beginning of the game, when you are in Kellan's room as a child, you will notice a poster on a wall: Dark Trolls. Obviously it's a very bad reference to the Dark Souls game. Check it out in the video
Did you find any other easter eggs? Report them in the comments!