Thief Secrets and Easter Eggs [PS4-Xbox One-360-PS3-PC]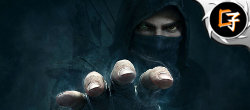 Thief also has its secrets and we have collected them for you in this guide.
Curiosities and Secrets of Thief
1) What beautiful eyes
Occasionally it happens to see scenes that require the use of old-fashioned "joysticks" even in video games. In Thief you just need to move a few tiles in Chapter 3, to the right place at the right time, to find yourself doing the voyeur thieves. Watch the video, you dirty boys

2) Tribute to the first Thief
In the video you can see below, game developers Nicolas Cantin (Art and Game Director) and Danny Windfeld Schmidt (Lead Level Designer) show you where to find some nice references to the original Thief released in 1998.

3) The automaton, the Chrono Trigger music and the singing candles
You can see it all in the video below. The automaton much more alive than it seems, the general whistling the Chrono Trigger "Frog" soundtrack and some really bizarre candles.
... and you have discovered other secrets? Feel free to use the comments or post directly in our forum, we will update the guide with your feedback.