Dead Space 3 - How to have infinite resources and money [glitch / exploit]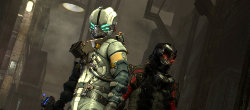 Want to know how and where the Dead Space 3 glitch is exploited to earn infinite money, items and resources?
In Dead Space 3 there are two points where you can accumulate how many items, medi-packs, resources and (since this stuff can also be sold) money. Here's how to do it.
In Chapter 8
Towards the end of Chapter 8 you will necessarily have to go through some sort of shack, with a table and beds inside. On the floor you will find a random item, pick it up and then go outside using the nearby door. Once outside, wait for the door to close behind you and then re-enter. On the floor you will see a new item, grab it, go out and repeat the process as many times as you like to endlessly duplicate your money, resources and health. Here is a video showing it all:
In Chapter 13
Defeat the boss at the end of chapter 13. You will notice the auto-rescue icon, then you will find yourself in a snowy field on which you will find many chests that if destroyed drop good value items that can be resold to accumulate money. Obviously, do not proceed to the exit but collect the contents of all the crates. Immediately after, select "Save and Exit" from the game menu and return to the main menu. Now start over from the checkpoint to return to the snow field which will be filled with crates again. Repeat the process as many times as you like and you will have all the money you need. Here's a video for that too:
In Chapter 14
Another exploit to be exploited this time in chapter 14. The procedure is more or less the same: enter the room, take, exit, enter, take, exit, enter, buy ...........